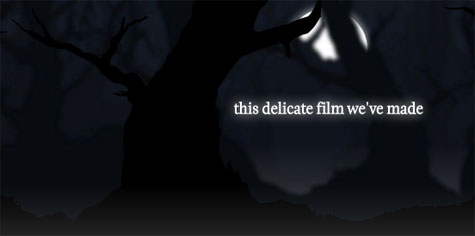 Yesterday I saw a private screening of "This Delicate Thing Film We've Made" by Darren Hayes at the uber posh Soho Hotel in London along with an intimate group of fan club winners and it was truly a delight for the senses. As Darren puts it, it really is about listening to the music with your eyes open. However my experience of this film really was about understanding the emotion behind the songs more - as when you have a chance to visualize it – the songs begin to take on a whole new level of emotion. Instead of listening to the music with my eyes open, I felt like I was experiencing the music with an open heart.
There is no way that I can summarize everything about the film here, I'll need to watch it like ten more times to have some solid concrete thoughts on it, but having been 24 hours since seeing the film in a more plush than plush cinema environment, here's what I got from the experience.
Although the soundtrack is Darren's album, the beauty and elegance of this film really is the responsibility of Richard Cullen and Damian Hale who worked endlessly in bringing this extravagant project to life. Every clip that I saw of the film previously completely enveloped me, but having seen it wove intricately into a complete film with themes and short stories really just just opened a pandora's box of questions I had about the album and the stories behind it.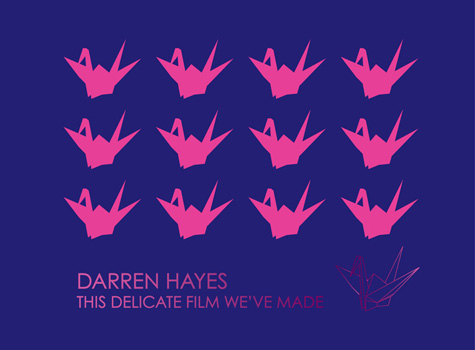 I can't imagine the amount of blood, sweat and tears that went into the process. It's completely unimaginable and I sincerely hope that Richard and Damian receive the recognition they deserve for bringing such a unique project to life. "Delicate" wasn't just an album, it was the belief and trust into a unique vision of pushing music concepts even further. In my adult lifetime, I have never been able to enjoy a double album opus, innovative tour and groundbreaking film all in one project. Darren joked during the film that he'd like to do a musical at one point and you know what, it wouldn't surprise me if the musical isn't already written about "Delicate".
My favourite part of the film is the "Neverland" clip. Darren's directorial debut is a wonder but the clip as a whole is full of glittery intrigue like the song itself. What I love about the clip is the use of shadow puppets – it's my favourite type of animation actually. If you've ever seen the end credits to the film "Lemony Snicket's An Unfortunate Series Of Events" you'll understand what I mean here. Just gloriously simple and a tad bit eerie – again, just like the song.
Another highlight of the film for me is the clip for "Words". Darren explained that Victorian magic played a major influence throughout the film and this clip is a prime example of such. Although I've seen the clip before, I still am completely mesmerized by it as you'll see my eye wandering throughout trying to outsmart the card trick – all the while feeling a sense of warmth every time the two hearts come together. Just beautiful.

A third stand out moment for me was the fact that the audience was made up wonderful people that I have had the pleasure of getting to know over the past few years from when Darren announced his residency at the Soho Revue Bar during the early promotion of "Delicate". This particular notion struck me when Darren stopped mid-dialog to point out that he'd recognized someone in the audience from MySpace and that he'd been stalking their profile. I then began to ponder what role social networking played in this whole project. I certainly know that I've made at least twenty new friends as a result of "This Delicate Thing We've Made" and it was so nice to enjoy this last piece of the puzzle with some of those friends in the audience. Friends that I've met up with in abroad, shared dinners with in London and had drinks with during the after-parties: from the smallest of Darren's gigs all the way to Royal Albert Hall.
"Delicate" may be the most intricate set of stories pulled from Darren's life, but to me, it's helped me draw parallels in my life through song and has given me a whole new set of stories to celebrate in the future. I can honestly say, no other album project ever created has affected my life in such a positive way. Thank you to team Darren for bringing "This Delicate Film We've Made" to life.
I know I tend to waffle on a bit about Darren Hayes music – You all know I'm not a psycho crazed fan and all that, but before closing, here are some other small tid-bits about the experience…
During the Q&A session at the end, Darren joked that a music video for "Insatiable" exists that we will never ever see. Something about him dancing badly in the video, trying to seduce a Katie Price lookalike or something. That sounds hilarious.

A 3D moment exists on the film during "The Future Holds A Lion Heart". Yes, you get to dawn a pair of 3D spectacles while cards fly and whiz in front of yer face. It's quite cool.

Richard Cullen was noticeably absent from the screening which was a shame, but Darren explained the reasons behind that. Had he been there, I would have wanted to shake his hand for creating such a masterpiece.

Darren explained that he is working on the next album, he already has a name for it but it will be awhile before we hear the first tunes. I don't believe that for a second. If there is anything I know about Darren, it's that he works extremely hard and tirelessly on his music and will surprise you when you least expect it – I think that's why he has such a dedicated fan base.
"This Delicate Film We've Made" is released commercially on DVD in February with a deluxe version shipping in December available from www.darrenhayes.com.
"Step Into The Light"