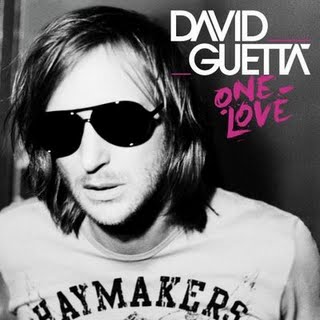 by Will-W.
French DJ/Producer David Guetta is rapidly gaining notoriety in the mainstream after having packed the dancefloors of Paris and Ibiza since the early '90s. His latest release from EMI One Love, is a magnum opus of collaborations with urban and pop artists. Single When Love Takes Over featuring a now label-free Kelly Rowland, is already a massive hit on a global scale with its memorable piano arpeggio hook. The general public of Top 40 listeners need little introduction to this summer's biggest track I Gotta Feeling featuring The Black Eyed Peas, which is being plugged simultaneously. A good indicator that this is indeed 2009's hit of the summer is that when you enter a search on YouTube, you get a page full of parodies. Check for yourself. The album features a new mix of the track with additional nuanced electro-infusion. Likely due to label contractual reasons, Fergie's original vocals have been muted off this version.
One Love frankly has many hit and miss moments. Many of the tracks undoubtedly are riding the new wave of hybrid urban/dance tracks dominating the airwaves right now, most notably Right Round by Flo Rida and Rihanna's string of recent hits. On The Dancefloor featuring Will.I.Am of The Black Eyed Peas, is an example where this hopping of genres is done right. Will.I.Am wisely lets Guetta's production do the talking while he raps neatly "in the pocket". The album's title track featuring Estelle is another standout with a feel-good vibe, although many will note that its beat is almost identical to that of World, Hold On by Bob Sinclar. A second Kelly Rowland collaboration, It's The Way You Love Me, could well be a possible follow-up single. In all honesty she sounds much more at home on this track than on When Love Takes Over where she barely reaches the high notes. Gettin' Over features long-time guest vocalist Chris Willis, who is responsible for one of Guetta's biggest hits Love is Gone, and it is one of the set's best tracks even though it is a more modest replication of that mentioned hit.
The album is stalled by many awkward moments. Latest single Sexy Bitch featuring reggae-pop artist Akon lacks any memorable hook or substance. The same applies to Memories featuring one of hip-hop's hottest acts, Kid Cudi and a third Rowland collaboration featuring Ne-Yo titled Choose. Toyfriend featuring Wynter Gordon sounds as though it does not belong on this urban-centric set, as does trance-oriented If We Ever featuring Makeba. Perhaps this is why they were relegated to the end of the album.
Despite its highlights and shortcomings, One Love is a step in the right direction for pop music, bridging the gap between two genres, urban and dance, which have been growing too far apart in recent years. Although it might not last forever, the sound is very "now" and it is Guetta's moment to shine. One Love is in stores August 24th in Europe and the following day in North America. For more David Guetta, visit http://www.myspace.com/davidguetta.
Also, let's not forget the exciting EQ video premiere of When Love Takes Over we posted not too long ago featuring an exclusive introduction from both Kelly Rowland and David Guetta!