by Will-W.
Make no mistake about it, I love Britney Spears.  And you would be lying if you were not in the very least rooting for her comeback after a tumultuous 2006-2008.  It is during this period that the public saw America's sweetheart of pop go from invincibility to vulnerability.  With her life now back in order and a record time rebound, Spears continues to delve headfirst into a demanding work schedule which has managed to keep her out of trouble.  Tickets for Spears' Toronto Circus Tour sold-out instantly, calling for a second show to be added at the Air Canada Centre.
After much anticipation, I decided to scope out Four Seasons Hotel concert day, particularly the Starbucks beside it, hoping to catch a glimpse of Spears.  I had no such luck, although I did catch the tour dancers and circus performers boarding the total five tour buses.  Some were friendly enough to come up to me and play with my dog Billy, whom I had taken for a walk.  According to the hopeful paparazzi, Spears has opted to remain low-key entering and exiting only from an undisclosed location at the hotel.   It turned out however that Britney actually only arrived in Toronto at 6 PM that night and had a private bus pick her up directly off the plane at Pearson International Airport.
Unlike many shows I have attended, The Circus Tour actually started punctually with opening act The Pussycat Dolls starting at 8:00 PM sharp.  The originally burlesque girl group has decidedly veered into a more generic R&B-Pop direction with their new material, yielding mixed – make that – lackluster results.   The Dolls were dressed in a manner that might be confused with some very street chic prostitutes, putting on a decent show as they zipped through a handful of their hits.  Their recent single I Hate This Part was memorable tonight with its re-working as a ballad to remix.  Surprisingly, they also performed Jai Ho from Oscar-sweeping Slumdog Millionaire sans A.J. Rahman.
Shortly after, the audience was treated to simultaneous shows on both sides of the circus ring stage by the accompanying performers.  Much of the show's visuals were dependent on an overhead LED projection lantern which descended and ascended.  Contortionists, gymnasts, jugglers, dancers, clowns and a dwarf appetized the crowd in preparation for the evening's main course.  Spears finally took to the stage shortly after 9 PM performing the title track off her latest effort Circus, followed by Piece of Me and Radar, both from her under-rated and ill-fated Blackout album.
All early reports indicated that Spears would be miming her entire performance, thus fair warning was given that she would not be pulling out some vocal kung-fu on us.  Despite being a pop legend, who really goes to a Britney Spears concert to hear her vocals alone anyway?  I am not saying that this is right, but I am saying that it is a new paradigm in pop music and that perhaps we need to embrace it.  Factoring in some of the intensive choreography Spears would go on to treat us to, I would say miming in this instance is forgivable.
Highlights of the show included a robust Bollywood-inspired performance of Me Against The Music with the Madonna bits snipped-out of course, and the evening's only ballad Everytime, which Spears penned herself.  Sadly, the ballad was much shorter than its album version.  Its visual treatment however, was simply wonderful as Spears serenaded the audience from an umbrella swing which hung from the ceiling.  Get Naked had Spears' dancers thrusting and gyrating as she served the audience a slice of I'm-A-Woman-Now sexuality on the stage's four markers.
The ultimate highlight of the night was a genuinely sexy medley of Breathe on Me/Touch of My Hand, both from her In the Zone album.  Spears, clad in a bondage costume designed by our very own D-Squared, writhed about her chair singing the joys of sexual gratification without a partner.  She was then lifted into the air by a male dancer hanging from suspension cords.  Yes, it was quite a sight to see and you too can witness it on The Will-W. YouTube Channel.  Amazing.  To prove it, within 2 days of posting the clip, over 10,000 people have already viewed it – further proof that the world cannot get enough of Britney Spears.
Spears' Provocative Medley of Breathe on Me/Touch Of My Hand
Fan favourites I'm a Slave 4 U and Toxic had the audience singing along in unison since Spears wanted no part in live singing.  The latter I feel did not get the visual treatment it truly deserved, considering how epic its music video is.  The show was capped-off with an updated version of debut single …Baby One More Time, before the audience feasted its eyes on a video montage of Spears' fiercest moments.
Finally, Spears delivered her one encore of the night, the massively successful Womanizer.  Spears looked positively sexy in her police uniform, disciplining her surrounding male dancers in circular motion before everything culminated in an explosion of confetti.  Now, what pop concert is truly complete without confetti?
My honest critique of Britney's Circus Tour is that visually and energetically, it is an absolute delight!  Just twenty minutes into Spears' performance had me Twittering how I was already getting my money's worth and more.  In terms of connecting with her audience, Spears suffers from what I call The Madonna Syndrome.  That is, technically everything about the performance was on-point but alas, we do not walk away from the show feeling that we know any more about Spears.  In fact, Spears hardly spoke to her audience, instead opting to let flashy effects and her dancing do the talking.  However, at less than half the ticket price I paid to see Madonna's Hard Candy Tour, I'm willing to make a couple compromises I suppose.  And tonight at least we got an encore (take that Madonna)!  Also, what ever happened to the rumoured performance of Gimme More – one of Spears' biggest hits ever?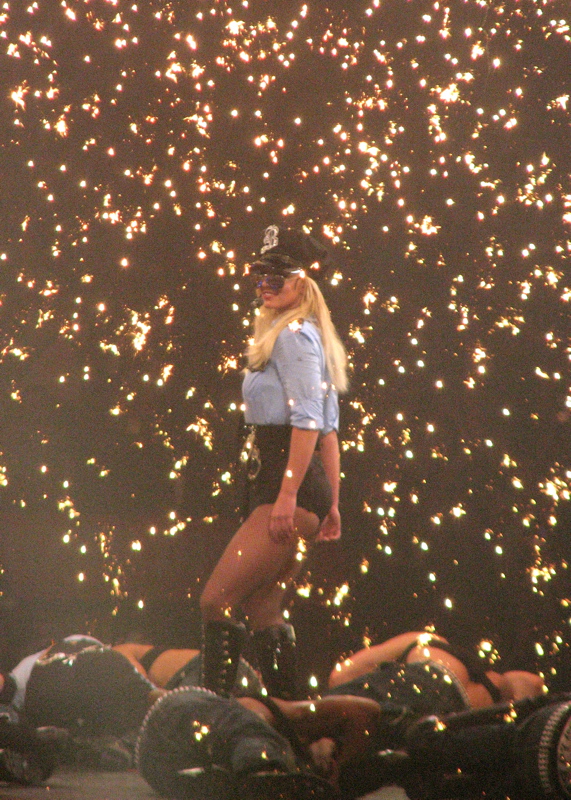 Spears as a Manizer (or Maniser if you're British)
It is heartwarming to see that if given another chance, things can be made right again.  Perhaps that sense of hope is what keeps us in love with Britney Spears.
For some fabulous photos of the show and her crew, please visit my Facebook album.  Feel free to post/share, crediting accordingly.