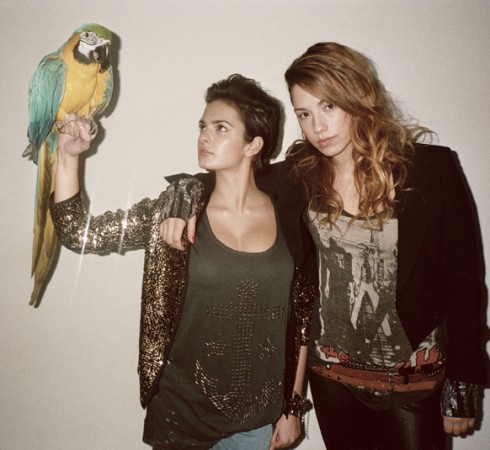 In the eyes of this writer, Oh My! are quickly becoming EQ's favourite new pop group. From reading about them and hearing their tracks, it seems obvious that Oh My! are on the edge of something pretty exciting, and it's been a pleasure for us to meet them, interview them and see them perform.
Last night, EQ headed to the Red Gallery in London's painfully trendy Shoreditch, where Oh My! were performing live for i-D magazine. The infamous fashion title's pop-up showcase, i-D NOW, features a gallery of all the magazine's most famous covers, and is hosting exclusive performances from breaking artists and existing stars like Patrick Wolf.
Oh My! performed a short acoustic set in front of a exclusive crowd of hardcore fans, and it was an honour to be counted amongst the few. The girls, Jade and Alex, gave us a flawless and totally entertaining set including their brilliant tracks "Run This Town", "Kicking and Screaming" and a cover or two, even performing the Missy Elliot track which gave the girls their band name.
Throughout the short performance the pair were relentlessly cheery and endearing, with Alex managing to sing through a grin so bright it lifted the mood of the entire room along with it. Jade gave the duo's feisty tracks the attitude they deserve, and as a whole the set was proof that with the right songs, two girls and a guitar can be as exciting as any super-produced show. In fact, that was the best thing about the performance; its simplicity showed that the songs truly are brilliant. Now we've seen them in the flesh, we can't wait for more from the Oh My! girls.
And more is on its way. Their new single "Dirty Dancer" is set to surface before the end of the year, and there's also their Example-masterminded album to look forward to. Judging by what we've heard and seen so far, we can't wait.