Velvet is releasing her new single "Chemistry" in the UK on April 27th on Feverpitch Records and EQ got 10 minutes on the phone with her to chat about the new single, her performance of "The Queen" at Melodifestavlian and some goss about Alcazar.  Suprisingly enough, Velvet told me she doesn't have a favourite PWL song – What?!  Anywho - enjoy the little chat and make sure you check out the new video.
Well hello Jenny – how are you today?
I am very good!
Where are you calling in from today?
I'm calling from my apartment in Sweden!
So you have a new single coming out in the UK called "Chemistry" on April 27th which has been a huge hit all over Europe thus far.  How are you feeling about the upcoming UK release of it?
Oh I'm very excited and really looking forward to going out on tour with it and and seeing England.  This is a dream of mine to get this song out to the UK and I hope it goes very well!  Fingers crossed.
Did you have a good time filming the new video?  I noticed there were a lot of dangerous neon wires and strings and such…
Yes it was a special experience.  I had a very good time.  Lots of early mornings but it worked out well.  I'm very happy with the results.  The neon wires and strings were pretty fun to see in real life.  I thought it might look strange in the video but it turned out very well!  It wasn't dangerous at all, no nasty accidents on the set!
You commissinoned Pete Hammond of PWL fame to remix the single which received a lot of attention online.  Do you think there is a huge urge for that iconic sound of Stock, Aitken and Waterman to make a comeback?
I think it's important that you have the remix.  If it's someone really good and famous like the PWL guys then that's even better!  I am absolutely thrilled with what Pete Hammond did to it.
You also re-did your huge hit "Fix Me" for the UK market – what was it like going back into the studio to remix this for the UK audience.
Yeah we hyped it up a little bit and fashioned it up to make it more suitable for the UK.  There were a lot of remixes for that one.  I can't keep track of all of them!
You're included on the Dance Nation Live Tour with Basshunter, September and Booty Luv in April.  Are you excited about this upcoming UK dates in April?
Very!  That's what I really love to do and what I'm good at, live performances that is.  I'm really looking forward to travelling around England and finally getting to do this!
Velvet sporting the "epic" dress during "The Queen"

So you recently competed in Melodifestavlian and you performed your track "The Queen".  You presented yourself in an epic dress which was beyond amazing.  Did you enjoy this performance?
Well it was totally my idea.  I wanted to do something suitable to "The Queen".  I really wanted to do a big number.  I came up with this idea for the dress that was supposed to open up and the dancers to come out of it.  The fact that I did it and the fantasy came from my idea to real life – was just amazing.  I mean it turned out very well.  Sometimes you have this crazy idea to build a dress like that and you don't even know it's possible.  It was – and I had so much fun doing the number.
How long did it take your team to put the dress and the number together…
I think they put it together in like a week from when I gave them my sketches.  They had so many other things to do for the competition and they worked fast!
It slightly reminded me of Madonna's iconic performance of "Vogue" on the MTV music awards…
Yes!  I took a lot of inspiration from there.  I did, I did!  It was kinda a Madonna versus Rhianna "Disturbia" performance.  I took a lot of inspiration for that performance and from the Dolce & Gabanna collection.
You've recently released your new album "The Queen" as well.  How would you describe it?
It's a very good album to play before you go out partying!  It's a party album and puts you in a very good mood!  You know – it's a good dance album.
What are some of your favourite tracks from the album…
I hate that question [laughs].  I just cannot choose at all.  I like them all in a different way!  There's a lot of good songs on there and I'm happy with the result and single possibilities and I hope you like it too. 
What do your friends really pick up when they listen to the album?
My friends really like the non-singles and especially the ballad.  I wanted to show I could sing a ballad on the album and my friends think it's different to hear me sing like that.  They like my song called "Radio Star" as well.
Are you really "The Queen" – does that some you up pretty well?
Of course I'm the queen dammit!  [Laughs].  No I mean right now – it feels really good.  The song "The Queen" and the album are just so great that I have to live up to that right?  I'm doing my best, but I'm not a bitch!  [laughs]  That's not a negative thing.  There's a lot of queens out there in the world…
Absolutely!  I'm curious – how did you come up with your stage name Velvet – is there a significant story there? 
Yes, they wanted me to pick out a name and I kind of had to just think of something that was good for me.  Glamour, sensual and sexy came to mind.  Velvet to me is purple and it's my favourite color.  So there were a lot of elements to draw from and Velvet just fits.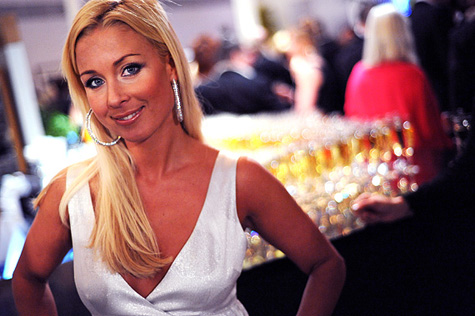 One of my favourite Swedish pop groups is Alcazar and I know you are mates with them…what do you think of their new album "Disco Defenders"?
I haven't heard the whole album yet but I really love their new song "Stay The Night" – it's really good!  They are very good friends of mine and I just adore their music.

Any funny Alcazar stories you can tell us?
Oh, me and Tess went to ballet academy together.  She was the first person I got to know when I moved to Stockholm.  So we call each other sisters.  I've known those guys for over 17 years and there are just too many stories actually – we're very good friends. 
Thanks for the chat Jenny – any parting words for our EQ readers?
I hope to see more of you guys in the UK!  Thank you so much – love you!
And just for giggles, let's take a look at that performance of "The Queen" – people take a bow…