Simon Curtis is most definitely on the rise and if you're any sort of fan of pop music – you can't quite ignore all the hype this young man is getting with his album "8Bit Heart".  Last week part one of our interview went live and in part two, Simon Curtis and I discuss his thoughts on music piracy, his thoughts on the Ricky Martin's coming out, Adam Lambert's AMA controversy, his thoughts on Glee and our mutual admiration for the music of Darren Hayes…we basically just talk male pop stars…enjoy.
Now 100,000 downloads – are you kicking yourself for not putting out a plastic CD?
No – not at all. There wouldn't be 100,000 downloads if I were charging for it. The trending topic wouldn't have happened – Adam Lambert would have never got in touch. None of this would have happened if I went about it the traditional way so I'm not kicking myself at all. At this point I'm just trying to build enough momentum now so major labels can't ignore me anymore. So far it's working. It's been out for less then two weeks now and downloads are through the roof, I've been a trending topic and have been featured on all the important pop music blogs – so it's doing really well – better than I thought, expected or hoped it would and I'm just really blown away and honored.
Awesome – now what are your thoughts about piracy – do you look at is at bad or as a marketing tool? As a pop music consumer, do you think artists should do more for their fans other than just promoting plastic?
Well I'm very conflicted because I have downloaded albums for free, but that's not to say that if I really like an album I won't buy it and support it. At this point, I've purchased two copies of "The Fame Monster", I downloaded the version of it that was on iTunes and I even bought a physical copy of it as a gift for my father. I always go back to the days when Napster first came out. I read a fantastic article that Harvard put out about the rise and fall of music industry profits. At the time when Napster was at it's height, back in the golden days, the music industry was seeing the highest revenues they've ever had and once the music industry started reacting negatively to the internet, it all came tumbling down. I think there is a fine line between piracy and marketing that artists need to hit in order to maintain relevancy. I think Kelis is a great modern example of an artist doing it the right way. Just this week she released an awesome mix-tape which has gotten her huge buzz and next week she has an album for sale. How many more people are going to buy the album after hearing how awesome the tracks are on the mix-tape. It's been several years since her last collection of tracks and to have that buzz and "wetting of an appetite" that her mix-tape has created for her, it's gonna boost her sales substantially I think. There a fine line there – it needs to be straddled and it has to find it's stride in the music industry because it's not there yet.
Now – you are the all singing all dancing male pop star. And just last week, Ricky Martin got a lot of negative feedback for coming out of the closet so late. I'm just curious as to your point of view about male pop stars perhaps getting some unfair treatment from the music industry?
I think it's great that Ricky Martin finally was able to come out and be comfortable with himself and that's a huge step for someone trying to build a family – kudos and applause to him I think it's incredible. As far as music industry stigma against solo male pop stars is concerned – it definitely is there and I can't say it's not deserving. Since Michael Jackson, there hasn't really hasn't been any solo male pop artists who've done the genre any justice. I mean you have so many artists that have a huge cheese factor and an embarrassing "cringe-inducing" shtick about them. It does come across as very campy, imitation female and there is a lot of different factors as to why they have that stigma. Especially in the United States it's just mainly an issue of staying true to the art. First and foremost, I am a songwriter and I want to write quality music for myself and other artists and produce music for other acts – it's just something that I want to do. I think when you put the art of music first and foremost – you have the potential of chipping away that cheese factor that so many male solo artists have. You can naturally come across as more of an artist – not being your "average German idol winner who is gonna put out dance record". I'm so glad that people are reacting differently to what I'm doing and that all the reviews and comments are saying it's different to other male pop and it's not embarrassing for them to enjoy!  Even Justin Timberlake is SO R&B these days – he self-admittedly hates being called a pop star!  He likes to be called "an R&B" artist which is kinda ridiculous – but to each their own I guess. Hopefully people will appreciate what I do in pop and come along for the ride and not judge me because I don't have a band backing me up…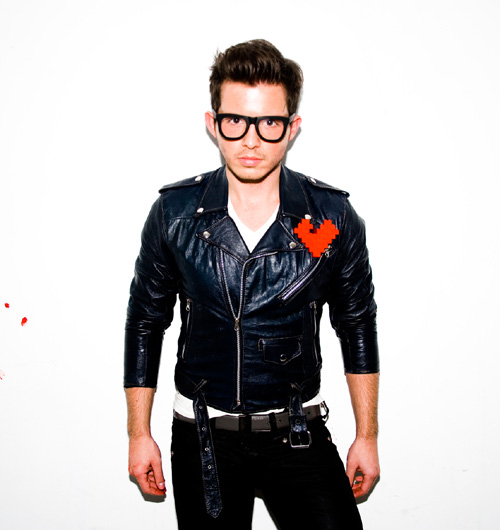 Even on the flipside of that – Adam Lambert has been pretty true to himself in his rise as a pop star and Americans really flipped out about his AMA performance – do people even care anymore if you are pop star that just so happens to be gay? Do Americans need to learn about "chilling out" when it comes to putting on a good pop show?
You know, Adam Lambert has sold hundreds of thousands of records at this point – he's like the number one video on VH1 countdown every morning these days. Nobody cares if he's gay – that whole thing was just the media. Honestly, he's a tremendous talent and people recognize that and buy his records because of it.  He's got nothing to worry about – if anything it just gives him more media coverage so it's a good thing [laughs]. The political climate and culture here in the US gets a little bit more of a bad wrap then it deserves simply because how strongly the media reacts to things here. Generally people just don't really care when it comes to sexuality and being an "in your face – out there" artist. I mean, c'mon – we set the tone for the 80s with Culture Club and what not and that was the gayest stuff that's ever happened in music [laughs] Honestly though, I really don't think America gives a shit…
Now on "8Bit Heart" you do name check a lot of artists like Lady Gaga, Kelly Clarkson, Black Eyed Peas, but there are a few songs on the album that give a nod to one of mine and your favourites – Mr. Darren Hayes – care to reflect on that?
Darren Hayes is a huge idol of mine and "The Tension And The Spark" is my favourite album of all time. I was very blown away when Popjustice likened my album to his – that like made my month. He is an artist that I strive to be like. I've been fortunate enough to meet him a few times and see him perform live and the quality of his work really inspires me. He does everything himself, he is geniually one of the best artists I've witnessed both live and on CD and as a writer – his songs like "Unlovable" that is pop music that transcends pop music because it has a soul to it. You feel it when he sings it, you feel it when you play that record. "Unlovable" is just one of my favorite songs of all time and when you listen to it – you feel it in your core. I love him tremendously. I was a bit saddened when the trending topic happened, one of the blogs that writes about me wrote to Darren to check out my album and apparently it got re-tweeted by hundreds of people and he wrote a quip on his twitter to not use his name to promote me…there was a little confusion on there and it was a little bitchy but hopefully Mr. Hayes doesn't hate me, because I love him!
Now some people might not know this, but you were in a Nickelodeon movie called "Spectacular" which was about rival high-school show choirs.  Do you think "Glee" stole the "Spectacular" thunder? I am secretly hoping that New Directions will square off against Spectacular in Nationals in the ultimate TV tie in….
[Laughs]  No, I actually auditioned for Glee a few months after I returned from shooting Spectacular. Things have a way of bubbling up at the same time in Hollywood, so who knows if anyone was inspired by the other. I am obsessed with Glee and would give a limb to get on that show. Maybe my character Royce could change schools? [Laughs]
Well that's it Simon – always a pleasure to chat to you as always – any parting words for EQ readers?
I'm going going going and if you haven't downloaded the album you can get it on www.simon-curtis.com and it's my labor of love and am happy people are reacting positively to it and I'm blown away, honored and grateful and there will be more music soon, videos and merchandise – I'm so excited to give it to you!