There is no question that a star is being born in the way of Sam Taylor. He's been slowly crafting some very moving and emotional pop songs over on his website and MySpace and they have been captivating the ears of music purveyors for a couple months now. Having the interests of the talented William Baker behind him too is also very interesting. In this interview with EQ, Sam talks about the meaning behind the touching song "I Don't Know How To Love Him", how coming from a West End background is shaping his current album project and why he chose to pull out from the X-Factor. Enjoy.
EQ: Hi there Sam – how are you today?
Sam Taylor: Great thanks for asking!
So tell me about your background – where did you grow up.
I grew up in Gravesend Kent, and lived in the same house for 16 years, which is still our house but I moved out at 16.  My dad lives in the states so every chance I get I go out there, it's kinda like having two homes.
So I'm loving the soft melodies you've been slowly releasing on your Myspace page.  How would you personally describe your music?
I always get asked this and I find it really hard to explain as it's just something that happens.  We are going for a sort of orchestral/electronic/dramatic pop with a few up-tempo dance songs thrown in to the mix, but then there is the acoustic guitar thrown in there as well, which I love.  Its also all about lyrics for me.  So really it's a very wide range, but I think we have found a sound now we are all happy with.
What message do you want to convey in your music?
Just something that is totally relatable whether it be about heartbreak or accomplishment, sexuality, loss, loneliness, isolation or vulnerability.  There has to be that connectivity in music, something that grabs you straight away, it could be the lyrics or the melody that gets you.  I adore music and am not sure what I would do with out it, so I think to have people who want to listen to my music is amazing and so satisfying.  I would just like to help people really go to a place where they can escape for three minutes.
So you're in the process of recording your debut album right now – what's it like being in the studio working on your own project?
Amazing I love it.  Since I left college I have done a lot of different jobs from being a backing dancer to ensemble parts in the West End, and you're always "part of the package" or show to help it work and succeed.  I always wanted to be in the foreground – to be at the front.  I couldn't do any of what I am doing now with out the amazing people behind me like William Baker, Steve Anderson and Terry Ronald –  all of whom help me to grow and to get things out of me that I never knew I could do and to help me realise things about me that I never knew before.  So I wouldn't say it was my own project as such, all of us have input, but to be the person who its all about is an extraordinary experience, as well as a bit of a journey of self-discovery.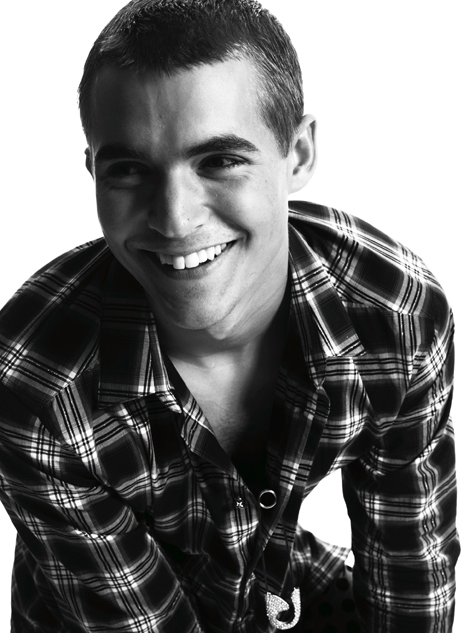 You're working with William Baker – how did this collaboration come about?  As a new singer on the scene, you certainly are working with one of the greats…
Well it was when I was in Mary Poppins (the musical) that I met Will – outside Bar Italia. We talked and because this is one of my dreams to be doing what I am doing, he said I should make it more a priority in my life and make it happen.  He is always pushing me to go further with my music.  I sent him a demo I did and we started working together from then on.  We just hit it off and we wanted to try to create something different and something real.  He is such a talented man and, creatively, what he can see and take from a song or photograph, is amazing.
Are there some tracks that we haven't heard yet that you are excited about?  Give us a spoiler…go on…
Yeah we have about ten songs so far, we have been working with a songwriter based in LA named Simon Petty, which has been great.  I love his music and really excited about the songs we're doing with him.  Also there is a song called "Communication" we've done which I love.  There will be a different song on my website every week, so you can have a sneak peak there.  Some of the tracks might get used for the album, but others won't.  It's a work in progress but I like that people can hear it in progress on my website.  I like people to be part of my journey as that's what makes it work.  But I am so happy with what we have done and can't wait to get them out there.
"I Don't Know How To Love Him" is really a brave and tender song.  How did this song come to fruition and did you have any reservations about singing it?  Mind you – it's one very beautiful song.
I didn't have any reservations about singing it or I wouldn't have sung it!  It's something that Will and I discussed at length because obviously there is a risk to it but we both thought it is one of the most honest expressions of what loving someone is actually like.  Falling in love, any kind of love is a double edged sword and is actually something I find quite painful and difficult.  It sends me mental!  I heard love described recently as coming with "exquisite pain"…and the song just captures that feeling and the maelstrom of emotions that come with falling in love.  Those words are words that anyone can relate to.  I love the song's honesty and it's tenderness.  Love can complete you or destroy you, it is a process of completely surrendering yourself to something, someone else and you are totally helpless in the face of it.  It is the most magical, terrifying dangerous thing there is.  I love that the song came from a musical too because of my own background in the West End – so it's an honest song for me in that way too.  I'm proud that I have come from that world, it's a world I love. People think that singing songs from a show is somehow detrimental or dangerous or just naff if you are trying to be a serious singer, but theatre and musicals have produced some of the best, most emotive songs there is.  They live on a lot longer than the average pop song. We are approaching my album like a show in a way…in that it is a musical journey, like the Moulin Rouge Soundtrack where there's new songs mixed with old songs but done in a way that you've never heard before.  This song is a really important element of that journey…a story within a story.  Part of a whole that hopefully will be revealed on the finished album.
Is achieving Top 40 or mainstream radio success important to you as an artist?
Well there is always the dream to be number one isn't there?  And to be played on the radio means you have a demand for you music, which would be unbelievable.
So we've seen you in the background of X-Factor before haven't we?  Did you ever audition or think of auditioning for those types of programs?  What are your thoughts on reality talent shows?  Do you think they are gaining or losing credibility?
Yes, I have been on there recently singing background for a few different people.  I did audition for the X factor – I think it was two years ago and I got through to boot camp, but have been always put off from the stories you hear, like the artists have no say in what they do – so I pulled out.  To me a song has to be personal to me, I like to discover what the song means to me and try and convey that feeling and emotion through the microphone or performance.  In a way it's my job as a performer, to tell a story and for it to be truthful and real.
Just so we can get a feel of some of your musical tastes, tell me what are your top 3 favorite songs of all time…
This is hard!!  And changes so often.  At the moment it would be, Sara Bareilles' "Gravity", Pink's "Glitter In The Air" and The Script's "Breakeven".  But ask me tomorrow and I am sure they will change!
Well that's it Sam – thanks for your time.  Before we close let us know what's next for you…
Well by the end of the year all my songs should be done.  I am going to start doing some gigs around to which I cant wait for.  In the new year we are going to do a music video and get the whole package complete, and hopefully have my music out next year.  I cant wait and so excited and blessed.
Next for me today is going for a run (laughs) and a few lunges in the park (laughs again).