I don't know what it is about the Paradiso Girls that I love so much – I just adore them. One thing for sure, is that they are definitely on fire at the moment. Performing alongside Space Cowboy in his latest smash "Falling Down" and sharing a label with Lady Gaga only makes them more cool than cool in my book. I got to have a wee chat with Lauren from Paradiso Girls recently that you can read below. Lauren is the UK representation of the group and she's just full of smiles and sunshine.
Paradiso Girls new single "Patron Tequila" is out now worldwide and it's defintely one of the party songs of 2009.
EQ: I love that you gals all come from different parts of the world – you're like a Benetton advert! What's it like working together as a group with so many ethnic backgrounds and personalities? Do you learn something new about each other every day?
Paradiso Girl Lauren: Yes – we most definitely learn something new about each other every day! Its funny we notice how we we do things differently and we sometimes get into stupid little debates about which country is better [laughs]. For example I think it makes more sense to drive on the left side of the road so you don't have to get out your car on the road side! Aria seems to think that the food is soooo much better in France but I beg the differ…Frogs legs and snail aren't for me! [Laughs]
Yeah, I can agree with you there, frogs legs aren't for me either. Now it seems that you girls formed in London, but somehow ended up in America. How is America treating you? Do you plan on staying there? I love it here! I love California and the weather is so nice! London can be a bit gloomy I'm afraid [frowns].
Your song "Patron Tequila" is blowing up at the moment – all the music blogs are loving it! I can't quite figure out if there is a deeper meaning to the song other than just getting drunk and tearing up the dancefloor – is this essentially what the song is about, or is there something deep an meaningful that I am missing here?
It's nothing deep and meaning full but I will say its just a fun party song and don't take it too seriously… We are fun girls and we definitely don't need any alcohol to have fun! We aren't afraid to be a bit cheeky and we aren't afraid to take risks!
I heard you've already recorded like 50 songs that you are secretly keeping hidden from us. Do you have a killer album under tight lock and key or what? What are you doing with all those songs? We wanna know!
Yes – we have finished our album which was two years in the making and we will be releasing that very soon! Around fall I think. The album has a little something for everyone with lots of different flavours. We have a little bit of rock and a really sexy song from Ceelo (Gnarls Barkley), we have our urban song "Patron Tequila" from Polow Da Don, some amazing songs from Will.I.Am who was involved in the group from the beginning. Fernando Garibay started the whole thing off with the first song we recorded called "Who's My Bitch" and many other songs on the album. We worked with so many amazing people who brought something different to the album! We really are lucky girls!
So how did you come about singing with Space Cowboy on "Falling Down"? Space Cowboy seems to be enjoying himself being surrounded by you gals in the music video…Is he a naughty boy or a good Space Cowboy?
I met Space Cowboy about two years ago in London – we are label mates so we are always seeing him out and about. We have worked with him a few times and I have to say he is such an nice sweet guy – a real gentleman.
Have you got to meet Lady Gaga yet? What's she like?
Yes I did get to meet Lady Gaga – couple of times actually. She is also a label mate and she an incredible artist – so creative, she even stays in character off stage! She keeps getting better and better with each single, very talented indeed [smiles].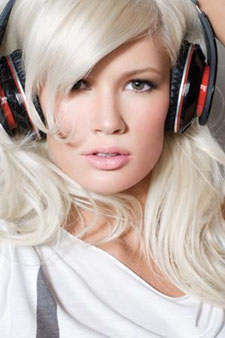 I just saw your video to "Patron Tequila"! A kick ass rompety romp through rompsville if I must say so…
Rompety romp through rompsville! [laughs]. I like that – er not quite sure what that means, [laughs again] – but its a cool video – we are partying having fun with Lil John and Eve the whole shoot – It was an amazing experience.
So what seperates you from other girl groups at the moment? So many of girl groups seeking fame and fortune this year…why should we pay special attention to you?
I think Paradiso Girls are bringing the fun back with lots of energy, some cheeky lyrics [laughs] and we have three lead singers, a DJ and a rapper – we are from all over the world so there is something for everyone I guees!
That's it ladies – can I get some closing words from each of you? Best of luck with the single too!
Well first of I would like to say thank you for all your support! Pleeeeease follow us on Twitter – our single is on iTunes and don't forget to visit www.paradisogirls.com! Yeah and uh thank you! [big smiles].
And just for kicks – let's take another look at that rompety romp through rompsville…