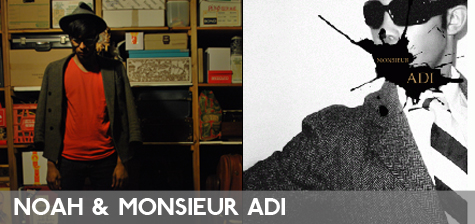 EQ is very pleased to introduce hot new talent
Noah
and his co-producer
Monsieur Adi
to our readers for the first time after just recently appearing on our friend
Arjan's
blog. Many of you may wonder how
Noah
, a vintage wearing Canadian singer-songwriter came together with Monsieur Adi, an emerging Italian fashion designer with a discerning musical ear. We are thrilled to tell you all about Noah's epic electro experience of an album
"Human Geometry
", out on iTunes March 10th.
For those of us who don't know, Noah was actually born in Dubai and raised in Ottawa, the capital of Canada. Monsieur Adi is a Milan boy through and through. Tell us how two talents of such diverse backgrounds found one another?
N: Everyone asks me this question and when I tell them that I met Adi online it sounds so hideous!
A: I know, right?
N: Adi is a man of many talents! He had an impeccably designed website of his digital fashion portfolio, which I found to be utterly fascinating, and incredibly painstaking!
A: Uff.
N: I had to contact him to let him know how flawless the execution was. My contacting him (you could even call it fan mail!) led to great long discussions of various disparate topics which always ended up somehow on the subjects of art, music and design.
A: Noah was actually the one that got me started in producing really! (Jeremy Healy and Stuart Price too….!)
N: Yes! I noticed that he always had great music on his webpages which turned out to have been created by him! Ultimately, when I started writing and producing, I thought it would be great if he could add a few touches and polish things up. Eventually we realized that we should just co-produce the album and Adi even took the reins completely on a couple of tracks.
A: Noah is full of ideas but I bring in a bit of technical know-how.
N: I'm quite scared of computers sometimes! I just want to run away to my piano.
Please let EQ readers in on what we can expect to hear on this album.
N: What WON'T they hear? (laughs) It's dance music but done in a way that has one foot in the roots of dance music, and one foot in what's happening now…and singing! This is not run-of-the-mill dance with boring singing, with no subject matter!
A: It's like the world of Noah! Very many different parts that you're discovering while he's discovering himself too! All this set to some sleek music!
N: I'd like to think that we're doing interesting electronica that still has an element of early vocal-based pop.
A: It's very organic!
Could you please describe for us any challenges you faced in the making of "Human Geometry", since much of it was done online versus sitting together in a studio?
N: Challenges! Don't get me started on the challenges! The biggest obstacle was not that we were working mostly over the internet, but that I couldn't devote 100% of my time to recording. I'm not in a position yet where I can throw caution to the wind and go sit in a cave and then write, sing and play.
A: Me neither.
N: Also, seeing as this is the first experience both of us have had with producing music, there was quite a steep learning curve. Most of the time, I don't know the technical terms for what I want and just end up making insane noises to Adi to try and find the proper synth. I think we've both learned to label things better! That way I won't have to ask him to try and remember that buzzing thing that did a bloopy thing with a bit of echo.
The artwork for Noah's "Would You EP" and forthcoming

"Human Geometry"

album look highly intricate and inspired. Can you tell us all about the merging of sound and visual art in your collaborations?
N: I myself have been drawing for ages and ages. I started singing and drawing at the same stages in my early childhood, so they've always gone hand in hand – I can't imagine one without the other. In my teen years I developed a serious appreciation for fashion and especially its photography. The album has a sort of flow from beginning to end, and I wanted the artwork to reflect that. It feels like I am surrounded by influences which are shaping me – very much the message of Human Geometry.
A: Yes! The photography was done by
Natalia Hawryshkewich
. The watercolouring and typography was done by our friend
Sebastian Bentler
of the fantastic German duo Overthrill. I merged these two with ideas Noah had and some ideas I had and I think it came out great! It has a clear aesthetic, I feel!
N: Yes! I must take this opportunity to extend a great deal of thanks to Sebastian and Natalia for their impeccable work! I couldn't be more pleased with the end result! I think Adi is a bit jealous of my boots too!
N: I know you are! I love hunting for things like that though. A fulfilling day for me is one spent at Value Village (like a Canadian Salvation Army).
A: That is TMI!
N: Still jealous I see! (laughs)
Among today's contemporary artists, who do you feel stands out – not just musically, but also stylistically – and why?
A: May I please answer this one first?
N: YES!
A:
Roisin Murphy
! She's perfect for me! Since I'm a fashion design student, I can design her clothes AND produce her album! (laughs) Her voice translates so well from studio to live. She's perfect!
N: She IS perfect! She has that look on her face that only a few have when she's really in the zone!
A:
Vero! Robyn
and
Bjork
, I love you too!
Monsieur Adi

, many EQ readers are huge fans of emerging talent

Frankmusik

and we are thrilled to see that you recently won a remix contest for his single

"3 Little Words"

– handpicked by "the future of pop music" himself. That is major! Tell us about this experience.
A: Well, I could not believe it of course! First of all, I had so much fun doing the remix because it gave me another chance to experiment and learn my capabilities. Right before doing the remix, I was afraid of a creative flatland and that always scares me. But I found some new inspiration and working with Frankmusik's voice felt pretty natural. Weird! It's always nice to receive a little recognition I guess. I must say from entering this contest, I've met some cool new artists so that's a big prize! All is cool.
N: That remix is amazing! Not only did I have a feeling Adi would win, but I can't say that I am not jealous of the track. Adi gets the remix, I get the boots, I guess! (laughs)
Can you each tell us something fun and quirky about each other that you've come to learn in working together?
A: Well one thing you know is I do NOT like reading that much…
N: And I love reading… so don't talk about books around Adi!
A: I'm just very visual! The book has to be VERY good for me to read it.
N: We both have a way of getting very easily distracted! The only downfall of working online is that every few moments we are watching
"Scarlet Takes A Tumble"
reaction videos on YouTube!
A: Oh my God, I could not help but laugh. Poverina (translation: Poor Girl)! Anyways, Noah is now like my brother! I know what he's thinking because I'm thinking it too!
What are your promotional plans as independent artists to let the world hear about

"Human Geometry"

?
A: I started Technofavrik Records basically for Noah because after some crazy offers that did not look good, I thought it would be better if the marketing and branding were more in the control of
Noah
! Being in two different locations offers us to reach more in real. I've studied the operations of different businesses to see how they work and adapted it to our needs so we're going to try different things from a mini documentary to street promotional efforts to the obvious gigs and some other little surprises.
N: And as always, Adi or in this case
Technofavrik
, has my best interests in mind to the extent that I am suggesting things, and Adi has already taken care of it! Creepy!
Thank you for taking the time to chat with EQ. We wish both all the best with your project and are excited to hear more from you!
Noah
and
Monsieur Adi
have generously offered a remix of their track
"Would You (Monsieur Adi Remix)"
for EQ readers as a free download
here
or exclusively on the
EQ Facebook Group
. The track is now available on iTunes worldwide.