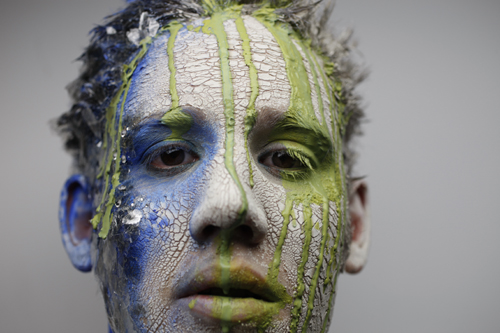 Last week I had the pleasure of seeing Mr. Fogg showcase his brilliant electronic pop in Central London – but it wasn't at a music venue or at a showcase, but in his own pop-up music shop, right next to Starbucks, McDonalds and the countless pubs and bookshops that make-up central London.  The experience was so refreshing and enjoyable and it was great to discover a credible artist while doing a spot of shopping – whilst on my way to a Christmas party.  It was completely unplanned, but had such an effect on me.  This is how music discovery should be – when you least expect it.  I applaud Mr. Fogg for choosing to showcase his music in this innovative way and I wish more artists would take note.
After one of his performances, I sat down with Mr. Fogg to talk about his unconventional way of showcasing his new music, his brilliant song "Moving Parts" and we delved into his music background a little more…enjoy!
EQ:  I'm quite curious – whose idea was it to do the Mr. Fogg pop-up shop?
Mr. Fogg:  Well it was something that someone mentioned to me as a joke once and I had it in my head one day as I was walking down the street, on the way to check out a venue for a gig that I was gonna hire out.  The venue was not very exciting.  But as we were walking past, we saw a shop that had a "to-let" sign in the window and we rang up the number straight away.  We picked a good time to do it too with it being Christmas time – it's such a cool way to showcase your music to the public because there are no filters, gatekeepers or taste-makers or any of that stuff.  Most of the people who came to see us play, just sorta walked in by chance and discovered us.
What was the reaction when you called the shop owners up saying you wanted to rent the shop to showcase your music?
They were amazingly chilled about it – they didn't seem all that concerned to be honest – I don't know why?!  To them it was nothing more glamorous than usual.  We ended up repainting the shop, put up all the signs and really transformed it into a little music venue…
It's an interesting way to showcase – when I first heard what you were doing this I got really excited because my whole thoughts on the music industry really mirror what you are doing with the pop-up shop…even Elton John is doing pop-up shops…
The problem is that there are so few record shops now.  Borders has just shut down now even, but when you go into a smaller record shop, you should be able to come out with a CD by someone you've never heard before.  If you're in a record shop now, it's the only way you can differentiate yourself now because you can buy everything on the internet or download it for free.  If you want people to come to your record shop now then you need a reason for them to actually be there.  
What was your overall experience of doing the pop-up shop for four days?
It's been really good and really varied.  We had one customer who came in three times!  Repeat customer, who bought something on the second visit.  A guy this morning was walking past as we were opening up and we weren't quite ready to play – he popped in and said "what's going on?" and we ended up doing a set just for him – totally unplanned!  He bought a CD and t-shirt!  Then other times in the evenings – we'd get quite a crowd in like a little gig – so it's been interesting – we've did about 40 performances so far and it's
been different every time! 
What I really liked about your pop-up shop is that you don't have to plan anything – you don't have to make a night out of it and invite friends – it's just right there, waiting for you music to be discovered!
Yeah – exactly!  And when you're performing you're really aware of the fact that people have just walked in and you can see what they think.  It's quite a rush if they stay until the end of the performance – it's a victory.  Or if they leave it kinda takes you by surprise but in the end you can tell if people really liked the idea of opening up to music when they weren't expecting it.
I actually didn't know much about you until your pop-up shop arrived – what is your background in music?
I started making music when I was really young – about seven years old.  I started on electric keyboards.  I never was interested in learning songs on it – even then I was more interested in making my own little tunes.  Even now, I still can't play other people's music even though I've had formal piano lessons.  But for some reason, the writing and performance has been the thing for me – it's the creating of music that I love.  I was in a band when I was in school that was not amazing – but as time went on I became more serious.  It was then that I just started doing my own stuff on my own as Mr. Fogg.
Do you think it's sorta the right time for your music?  Owl City just out of nowhere went to number one in the states and your music is somewhat similar…
I heard that!  When I first started making music – there was nothing but guitar music on the radio.  Electronic music wasn't the norm.  But I listened to Zane Lowe for the first time in years and suddenly there was a lot of electronic music on there!  It was a shocking thing to me when someone suggested that there was a hint of dub-step in my music and I thought "wow I finally have become trendy for about five seconds" [Laughs].  It is a good time for serious electronic music though.  People seem to be quite happy that electronic music is back.
Tell me about "Moving Parts" – it's quite a special song isn't it…it's my favourite of yours.
It's the first song that I recorded for the album.  I recorded it with a guy who is a noted Icelandic pop producer.  I worked with all kinds of people, some quite famous – but nothing has come of the those tracks.  And it was just a lot of investment and time and energy to fly back and forth to Iceland.  At the time I wasn't really too excited about "Moving Parts" and it went amazingly well when we recorded it, but when you listen to it back, you usually find a lot of things that need to be changed.  But for this track, when I put the CD in my car in the UK and played it back, it still sounded amazing and I thought, "this song is perfect".  It's the sound that I really wanted for my record and I ended up calling the album "Moving Parts" too as a result.  It's quite an important song for me because it was the song that really defined my sound as an artist.
To discover Mr. Fogg for yourself – please visit his MySpace page.