EQ has been a fan of Luigi Masi for quite some time now. With the release of his new album "Save His Shoes" and new single "Armed With Love" dropping soon, I thought it would be a good idea to catch up with Luigi to talk about his music, his favouite Girls Alouder/Sugababe and find out what the big miff is between him and Peter Robinson from Popjustice…Enjoy.

Hey Luigi – how are you young man?
Hello EQ! I'm super and hope you are too. Just came back from having a nice pizza for late lunch.
You must be excited, your album "Save His Shoes" is coming out soon.
Yes, I am so hyped up about it! You know I've spent the last 3 years working on it so for it to finally be out is an amazing achievement for me. This is just an early release on June 1st where it can just be bought online at digital places like iTunes. We chose to do that because I have lots of fans who have been waiting for years now, so I thought it was unfair to keep them waiting any longer. A proper physical edition will be out in around August/September time after my next single. Still working on the songs for that. I'm such a perfectionist!
Now what the hell does "Save His Shoes" mean? Do you have a shoe fetish?
Everybody asks me that! Basically it's a line taken from the song "Over The Top" and I chose it because I really liked the line and because I feel it epitomizes the whole feel of the album. With it being all mainly uptempo songs, you know you gotta "save your shoes" from dancing too much. Some people might find that cheesy but I love it.
Do you have a massive shoe collection?
No actually! I generally just wear the same pair until I get a new pair of shoes. I got these black sneakers from Hugo Boss for my birthday last year and I think I've worn them every day since. In fact one of my managers tells me off everytime we meet and I'm wearing them! I do like colorful shoes as well, I have quite a lot of Prada and Gucci shoes which are bright or metallic.
So one of my favourite songs of yours is "Strangers Again". A POP CLASSIC. Are you proud of this song?
Aww thank you! Yes it's one my favorite songs on the album and I wrote it whilst on tour last year with Girls Aloud. It's just a great euphoric pop track with a hint of melancholy. It was supposed to be my first single back in February but I was really ill last October and that lasted until the good part of March this year really, so everything had to get pushed back and changed. The single mix is even better than the album version but not sure if it'll ever get heard now.
Were you pissed that Vlad Topalov released "Perfect Criminal" as that is also a song that you recorded as well?
Well not really as he had to ask permission and I got a nice little paycheck! The track is on my album so fans will be able to hear my proper version. Also I was never going to release it as a single so it's not that big a deal for me.
It's no secret that you toured with Girls Aloud and Sugababes. Who is your fave Alouder? You're fave Sugababe. Don't chicken out and say all of them – pick one and tell me why.
My favourite Sugababe is Amelle, she's just so lovely and amazing. When I was on tour with them last year she would invite me out on her smoke breaks and we would chat. Keisha is really lovely to. My favourite Alouder would have to be, hmm, Sarah because she's so feisty! I'm so happy she got more to sing on their last album.
Tell me about your new single "Armed With Love"...
"Armed With Love" is quite interesting actually. I recorded it last September over in Copenhagen and that was great. Cutfather and Jonas are so sweet and made it really easy. The track was originally passed over to Beyonce in fact for her last album but it didn't fit in the style so she let it go and it came to me! I don't normally record songs that I haven't written on (I wrote on 8 of the 12 on my album) but I really love this track and I could personally relate to it so that helped factor in on my decision to record it. It's basically a song about a relationship breaking apart and one side is trying to get it back together "armed with love".
Did you have fun filming the video? I imagine it would have drove your eyesight crazy with all that neon shading and dancing in the dark? I think I would have needed some natural light therapy after filming something like that…
The video was interesting to say the least. I didn't have much to do apart from stand about and have these lights shone at me for 24 hours straight. I had to wear sunglasses for the next few days after the shoot as my eyes kept flashing! After doing a rather big style pop video last year with "Strobelight" I wanted to experiment a bit more and do something a bit arty. I was quite mad that Ciara's video premiered before mine as some people said I copied her, but oh well!
You've bulked up a bit since you're first video to "Strobelight" – have you been hitting the gym? That wasn't a come on by the way…
God no, I'm the laziest person ever! You would never find me at the gym. I'll be on the sofa with the TV remote and my laptop. I think it was just because my top was a bit tighter and in "Strobelight" I was wearing so many layers (that was such a freezing cold shoot!).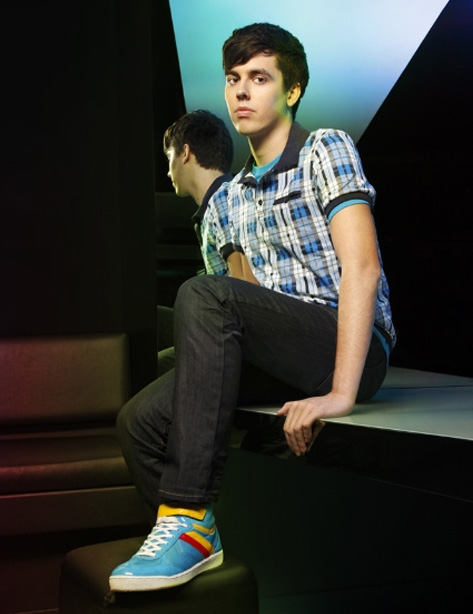 So are the girls going crazy for you yet? Teddy bears and bras being sent to you in the mail?
Well whilst on tour with Girls Aloud it was a bit hectic, I was screamed at just walking down to buy a drink (yes little popstars like me do go to the normal shops in an Arena to buy stuff!). And outside the venues I had amassed quite a little fan club, especially up in Glasgow, in Belfast and London! But it's so sweet and I always make time to take photos or sign anything, if they can wait, then I can to! It is the fans who keep me going and their support and love means the world to me.
So be honest and spill the beans…why is Popjustice so mean to you? Did you steal some of Peter Robinson's Alphabeat CDs when you went to visit him?
Now I'm honestly not sure at all! I've met Peter just once, when he invited me over to his office just before I did the Sugababes tour. We just had lunch together and talked about music and pop in general. He was really nice and so was I (well I hope!). We then talked again briefly after one of the O2 shows in May and that was the last time I ever talked to him. Then suddenly in October one of my friends sends me a link with his little article thing! I was quite shocked actually as it didn't really slam my music or songs, but slammed me personally! So yeah, not really sure. I'm possibly the nicest person you could ever meet so don't know what happened. If I ever see him again I'll give him a hug.
Who did you want to win American Idol this year? Kris Allen or Adam Lambert.
Kris! I stayed up the other day to watch the result live from America. I liked Adam and everything but I just thought he was a bit too much. I honestly don't see what type of music he would record. Kris on the other hand is a bit boring but he can sing and I would listen to his album as I guess it's going to be like an Archuleta-type affair whereas Lambert's would be like musical songs?! I don't know really. I'll give it a fair listen at least when it comes out.
A lot of people showed up to see you at our EQ club night last October, but you called in sick. What are you going to do to make it up to those EQ readers who paid to see you. Boogaloo Stu was especially all a fluster as he wanted to give you a cuddle and sing a duet with you…
Oh no! I honestly was so excited to perform there as that would have been my first time since the tours and I would have debuted my new album material like "Strangers Again" and other tracks. But I got really sick and as explained in another question, only properly recorded by March this year. I shall see if I can come by for your next one as my album will be out by then so people will be able to singalong!
Quick – pretend we are an excitable fan and busted into your house to steal some Luigi Masi memorabilia – what thing would you hide from us if we busted in your room…
Probably my bed! I absolutely adore and love monkeys and collect monkey soft toys, so the edge of my bed is lined with them and my duvet and pillow is a monkey pattern too. I always get embarrassed but I love them to bits and they make my bed warm!
That's it Luigi – thanks for being a good sport. We really love ya. Your parting words for EQ readers…
Aww thank you for taking the time to interview me first! I do read your site when I get the time and you've introduced me to some great new artists. And to everyone else thank you so much for your warm love and support, I really do appreciate it and I thank God every night for blessing me with fans like you. Thank you!