Emmon is one of those electronica artists that deserves crossover success.  Her latest album "Closet Wanderings" is a mini-masterpiece that I have been enjoying for some time now and deserves to be held in the highest regard alongside the likes of Little Boots and La Roux.  I caught up with Emmon recently to talk about the album, her next single "Lips On Fire" and what it's like to have a full-time job whilst trying to launch take her unique brand of electronica to an international audience.  Enjoy.
Well hello Emmon – thanks for taking the time to chat.  Where are you answering our questions from today?
Emmon: I am sitting in my little studio at home. It is a walk-in closet that I rebuilt into a home studio and it is covered with wallpaper of Disney figures such as Mickey Mouse and Donald Duck.  I guess that the people who lived in the apartment before us used it as a playroom for their children. Now it's my playroom!
How did you get your start in making electronica in Sweden? I understand you're in another band called Paris as well.
Yes I write songs, sing, play keyboards and guitar in Paris – we are four people in the band.  Paris is a quite a successful in Sweden. We started the band in 2001 when we got a debut performance at one of Sweden's biggest music festivals – "Hultsfredsfestivalen".  Since then we have been touring a lot around Sweden and Northern Europe and at this moment we are recording our 4th album.  Paris is not into electronica as Emmon, but is more into indie-pop and new wave.  Emmon started during my time as an art student in Stockholm.  I was interested in electronic music and started to experiment with art, sound, music and performance.  During that time, I developed and became quite successful on the Swedish electronic scene.  In the beginning of 2007, I released my debut album "The Art And The Evil" on Wonderland Records and started to tour a lot around Sweden.  Earlier this year, my second album "Closet Wanderings" was released and it has become a big success and now I'm heading far over the Swedish borders, which is really exciting!
Very exciting indeed – now since you've burst onto the scene you've been dubbed "The Electronica Queen Of Sweden" – is that a label you feel is accurate?
Of course it is – it's a quite flattering title.  If media or people would like to call me that – its alright!  But it's not that important for me.  I am just satisfied making my music in my own way and that people like it.
What is the significance behind the title of "Closet Wanderings" actually?
It is named after my mind-blowing walkabouts I do when I am experimenting and recording at home in my little closet studio late at nights.  The songs I do are like small road movies in my head when I'm creating. I am visualizing the music and building small short stories around it.


You released an electronic synthesizer gem "Secrets & Lies" late last year. What is this song about?  Are you proud at how this song turned out?  I love it when the song explodes around the two minute mark…
Personally I think it is one of the best songs I ever made and it really means a lot to me.  The song is about losing control over situations in life, being abandoned or losing yourself.  I really don't like to tell people what my lyrics are about because I want to write lyrics everyone can identify with or find their own clues in the meaning of the lyrics.
Tell me about your latest single "Lips On Fire"…I have a theory that it's about one of two things – some red hot kissing or some red hot spicy food…
As I said before it up to the audience to make up their own opinion as to what the lyrics are about.  But for me that song is about how to make your voice heard at any price.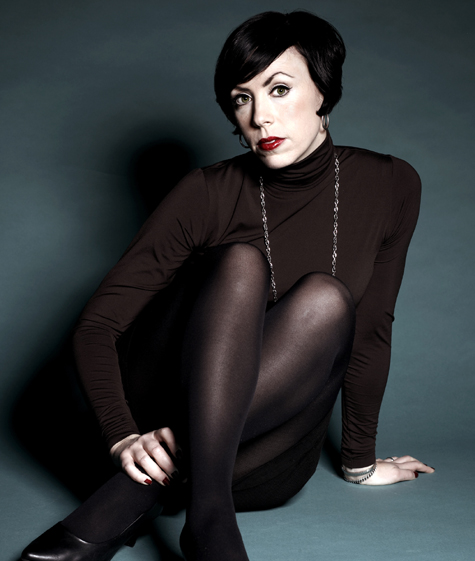 How much time a week do you spend on making electronica?  Are you a weekend warrior of such when it comes to music, or are you pretty focused on making Emmon an international success.
As I am doing almost all of the work around my music on my own – it is a lot of work. I am always working as hard as I can find the time to. Unfortunately, I am not able to live on my music at this moment so I also have a full-time job which steals some time.  My friends think I am a little bit crazy working as much as I do to develop my dreams and reach my goals, but it is something I have to do to survive.
What electronica music is really making you excited these days?  What tracks would you not leave the house with unless they are firmly playlisted on the iPod?
I am really in to Röyksopp's latest release.  And I love Kris Menace remix of their song "The Girl And The Robot".  A band I really like is a Finnish band called KA SO RE – I also have performed with them in Helsinki. I love their song "No Good For You".
Do you have any quirky musical tastes?  For example are you a secret Backstreet Boys fan?
[Laughs] I love Dire Straits and Fleetwood Mac during their early 80's period and also a lot of other obscure 80's pop music, such as Gary Numan and ESG!
Not really that quirky!  [Laughs]  Now everyone keeps going on and on about how amazing you are live?  Just how amazing is a live Emmon show. We'd love to see you strut your stuff misses.
I love what I do and I want people to feel that.  It is all about energy and to have the courage to apply that energy to the audience and try to interact with people. Nowadays I also have a small live band and together we are taking Emmon to the next level.  I am always working hard to develop Emmon on stage as I love to perform.
Thanks Emmon for your time – Before you sign off, tell us what's next and what we can expect from you in the immediate future…
This summer I will be touring on some of Sweden's biggest music festivals and releasing my new single "Lips On Fire" together with an amazing video.  It's a video I have done with Tony Ahola, Niklas Kärreskog and Joakim Kärreskog who also made the "Secrets And Lies"– video.  Tony Ahola and Niklas Kärreskog are the boys I have with me when I am performing live.  Tony plays the drum pads and Niklas plays the keyboard.  Fantastic people!  After summer I will release the records abroad and will be working hard for an international breakthrough.  Hopefully I will see you during the fall!  Take care Raj!
Watch out for Emmon's hot album "Closet Wanderings" coming soon and go out of your way to find it now if you can – make sure to visit Emmon's website here or visit her MySpace to listen to her new single "Lips On Fire".
Get your FREE Download of "Lips On Fire" courtesy of Wonderland Records.