Last week, the mighty rock n roll / electronic force of Family Force 5 rolled into Londontown as they were on tour with the sensational Cobra Starship. I got a chance to catch up with Derek Mount (aka @chapstique on Twitter) from Family Force 5 right before a special show for their MySpace fans to talk about the importance of social networking to them as a new band, life on the road and their new tracks like the gorgeous "Topsy Turvy" and new single "Fever".
Family Force 5 really aren't the typical type of band I listen to – as they incorporate a lot of hard rock into their songs, but they way they mesh it with electronica is just purely fascinating to me – that and the fact that they can flip between the electronic pop and rock so easily really shows great musical diversity and that's something that I really appreciate.
I am also hugely fascinated with the success they have had as a result of social networking and I think they really are a good template for independent bands who are trying to succeed in these turbulent times in music. Yeah the kids may be downloading their songs and albums for free, but they are also turning up to the shows in huge numbers and that really says something to me, because as you know, I feel quite strongly that the music industry needs to change to support these types of artists.
I hope you enjoy this little chat I had Derek and if your curiosity is peaked like mine was about Family Force 5, make sure to check them out on MySpace.
EQ: How is your UK tour with Cobra Starship going?

Derek: Awesome man. Sadly, we just finished the last night at Shepherds Bush and it was really fun. Great people at the show – they were really welcoming and the crowd was really fun. It's just an honor for us to come to the UK for the second time round and get to play in front of such big crowds and new people.
Now the last time you were in London, you were relatively unknown to us Brits, but when you announced the show on MySpace, it sold out instantly…amazing the power that MySpace and social networking has…
Yeah, it was incredible! Seriously hardly any press for that show – we were blown away, we had no clue if anyone knew who the band was out here and it was an honor to play in front of our UK fans for the first time! We didn't have high expectations for the turnout, but it was just beyond what we could have ever hoped for for the first UK show!
Obviously you guys rely on the strength of social networking as a young new band, tell me what role does social networking play in Family Force 5…
It is the bread and butter and the lifeline of Family Force 5. If it wasn't for tools like MySpace, Facebook, Twitter and SayNow and all kinds of stuff like that we wouldn't have a job – we are very appreciative of the technology. Not only are the social networking sites really fun, but they have helped us to get to know our fans. I feel like a lot of bands in the old days might not have had a real grasp of who the core demographic really was, but this way we've gotten to see first hand the people who are really connecting to it. We've made so many friends because of social networking. The kids in the States come to our shows and are in the front row and we even know their names, done pizza parties with them, rode rollercoasters with them done the waffle houses with them. It's just made the whole experience of getting to know your fans really intimate.
When I first listened to your album, I noticed that it was half electronic pop and half hard rock. Was that always the plan for your music or did it just sort of happen that way?
Yeah, we never sat down and said we wanted to make anything with any sort of formula and maybe the music is a result of all of our personalities, but it just kinda happened. All of us listen to different stuff and strangely enough, all five of us write and when we write together, there is a big influence of dance music and a big influence of rock music, so what you hear is a direct result of all of us all making the music we love so much. You'll hear elements of Michael Jackson and Prince in our music and even some metal in there! We've been writing a lot of our new record while here in the UK, we got about six or seven songs done these last couple of weeks, but man – they are all over the place! We are excited about them, really aggressive stuff.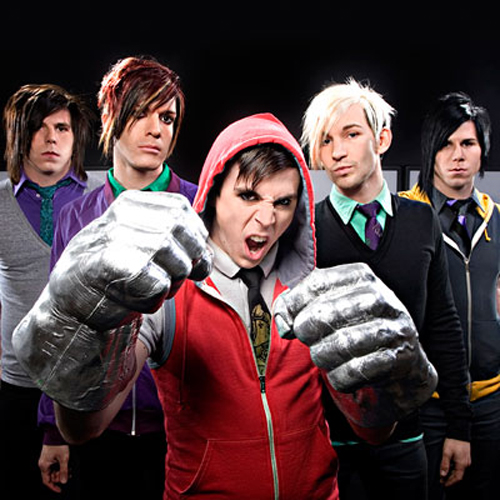 On the flip side of your "aggressive" material, you did a song called "Topsy Turvy" for the Alice In Wonderland Soundtrack – tell me about this song, it's really quite beautiful…
Yeah, we just released it on MySpace – it's on the Hot Topic special edition of Alice In Wonderland. I think it's gonna be at the end of the movie, or somewhere in there. It was such a surreal experience to get asked to do a song for this movie. It's a departure from our normal sound, but people are really diggin it – like you said!
Tell me about your new single "Fever"
Oh man, it took forever! We wrote that thing like a billion years ago and we kept writing and re-writing it, but I'm glad we did because we like how it ended up. It's very dancey and funky. To me, "Fever", "Drama Queen" and "Radiator" kind of sum up Family Force 5, kinda dancey, but still really aggressive and rock and roll. European sounding to me…
Was "Dance or Die" the obvious choice for your first single?
You know we weren't quite sold on the idea of releasing "Dance or Die". We thought it might be too weird or too spacey and Voltron sounding, but it worked! "Dance or Die" is one of my favorite songs we did, it's so experimental – I love it.
How is life on the road? Is it like the rock n roll dreams you fantasized about?
A little bit of everything – we are having a blast! We've been on the road a lot. The biggest struggle for some of us is relationships. Solomon has a child and that can be real tough. But man, there is nothing I'd rather be doing every night. Playing and partying and giving out high fives to our fans. Here in Britain, we've been eating a lot of weird stuff we wouldn't normally eat in the States!
I noticed you guys are rocking this shiny kneepad look…
Yeah, once Michael Jackson happened, we had to pay our little tribute to the king. Michael used to wear one knee pad, but we got to pay homage and wear two each. Every tour we dress differently, from shiny spacey stuff, to leather garb, to American football shoulder pads, but this time, we are rocking the tank tops and shiny knee pads.
When you get back to the States, what are you most looking forward to?
Pepper! Dude, the pepper here is really weird!!! It tastes like an elephant smells, I don't know what it is! Do you not know what I'm talking about – you're American right?!
I never noticed the pepper to be weird if I'm being honest…
Woah! I love pepper, how could you not notice it [laughs]. Dude, if our band doesn't work out, Family Force 5 will sell pepper in the UK. No offense but I think you guys are missing out on the good freshly ground stuff…this weird elephant tasting pepper is just funky! My omelette this morning was the victim to some bad pepper. It's just wrong.