Montreal based The Mission District are blowing up at the moment.  Hell, even Perez Hilton is behind them.  The boys are coming to the UK this month to promote their debut album "Youth Games" on tour and EQ got to chat to lead singer David about who they are, 80's influences and working with Starsmith and Frankmusik in remixing their stellar track "So Over You". 
First of all, where did you get your name from?  I know there is a Mission District in San Francisco, but is there another infamous Mission District that we don't know about?
It's definitely the San Francisco link!  Even though I spent a good part of my life in Montreal, my mom is from the Bay Area in San Francisco and I lived there for a little while when I was a kid.  The mission district is an area I hung out in a lot and it's pretty nostalgic for me.  I guess I just liked the ring to it so there's definitely a San Francisco connection to the name of our band! 
And how did you come together as a band?
Well myself, Rob and Travis, had been in a band together before.  We were in a pop/punk band called Full Count – nothing very serious, just kind of a post-high school band thing.  When that came to an end, the three of us just started jamming together on other stuff and songs.  From then, we went through a couple different drummers and Mike is our drummer who came into our equation just over a year ago. 
How would you guys describe your sound.  It's definitely on the pop/rock tip.
I like to think of us as "youthful sounding synth pop".
How would you differentiate yourselves from other indie pop/rock bands?
We don't even consider ourselves an indie rock band at all.  We pretty much consider ourselves a straight up pop band.  I think that unlike a lot of indie rock bands, we aren't afraid to say that.  We like pop and we like to write catchy choruses. 
Perez Hilton even loves you.  He's described your music as "Hot Sweaty Boys Who Make Hot Sweaty Music".  Is that accurate?
[Laughs] I think that's pretty accurate.  Definitely.
I read in your bio that you are influenced by 80s brit pop bands like The Cure and Tear For Fears.  Can we hear any of those influences in some of your songs?
Definitely – more so in our newer stuff that we've been working on.  There's a heavier synth influence in our stuff.  The mid-80s is one of my favourite periods in music.
What's your favourite Tears For Fears song – just out of curiosity…
Hmmm, I would say, "Pale Shelter".  Definitely my favourite Tears For Fears song…
So you guys are pushing out your tracks "Heartbreaker" and "So Over You" out to the public. What's "Heartbreaker" about?
To be honest, it's a little bit about Antoine and his ability to be a "heartbreaker". [Laughs].  He doesn't even necessarily want to be a heartbreaker, but he just is and the song is about him and what he does to girls…
So when you perform the song live are you all thinking…"Oh this is Antoine's song?"
I guess maybe a little bit.  I think it's also the chorus is a lot of fun live.  It's the type of song where we pulled back a little bit from the verses to make the chorus stand out more – it's one of the funnest songs to play live. 
 
I have to give you kudos on "So Over You" – it's got a very cool electronica vibe about yet it still keeps a pop/rock edge.  What was it like creating this track?
It was a lot of fun.  I find that most simple pop songs are created fast.  I wrote the basic melody and song arrangement in an about 10 minutes.  This song was so much fun because it was so spontaneous.  Sometimes you can get lost in "double-thinking" when you're creating a pop song and overcomplexify things, but this song isn't the case.  It's just so fun. 
And even cooler, you got the mega cool "Starsmith" to remix it for you.  He's one of my fave new artists on the London scene.  How did this remix collaboration come about?
He found out about us through Frankmusik.  Frankmusik also did a remix for "So Over You" which we haven't put out yet – shhhh.  Them two are pretty tight and that's how that collaboration came about.
Tell me about your album Youth Games.  What is the concept of the album?
For our first album we wanted to do something that is a "coming of age" record.  We wanted a very youthful vibe.  A record that kids could come to shows and dance their asses off to.  We wanted big choruses and high energy.  That's why we decided to call it "Youth Games".  It's a good starting point for us.
Your coming over to the UK in March and April for a UK tour.  Are you excited to bring your show to us UK music fans?
Yes!  It's our second tour of the UK actually.  We did an opening slot for Simple Plan last November.  Those were obviously much bigger shows and our tour in the UK this month will be more smaller clubs.  We're definitely looking forward to it because we'll get to go to places we haven't been before like Ireland.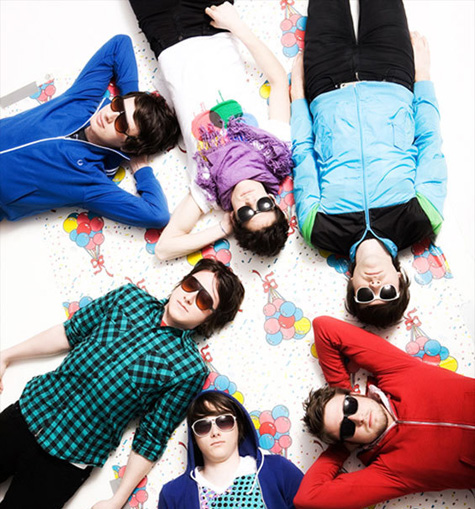 Are you gonna set aside any time for sightseeing while you're over here?  Or are you an anti-tourist like me?
I'm not into the whole sightseeing aspect when touring.  I definitely enjoy the aspect of getting to know the city a little bit.  Usually on days off, some of the other guys just want to stay in the hotel, but I'm the guy who likes to run around and get to know a city as much as I can.  On the last tour I spent a lot of time walking around London and checking out different neighborhoods.  I don't think I like to sight-see – but I'm definitely into exploring!
How does London differ to Canada in your eyes?
Montreal is a fraction of the size to London so it's really cool to be in that overwhelming environment.  It's unlike any other city I've ever lived in [laughs].  Being in London just gives you an overwhelming rush.  I'm also looking forward to checking out some of the smaller cities in the UK like Liverpool and Manchester if I have time to get out and about. 
You know I have to comment on your publicity photos…Is the brightly coloured t-shirts and leather jacket thing your signature look? 
It's an evolving thing!  Like our music, our look is bright and colourful and we wanted to reflect that in the way we dress.  If we were all dressed in black and grey, people would definitely be wondering a little bit about us…[laughs].
What sort of message do you want to send out with your music right now…
We're a fun band.  That's what we are all about – creating our little "escapist" world at our show.  Anyone that enjoys fun, dancey pop music will enjoy The Mission District!