Something that we feel strongly about at EQ is real music art. In the day and age where we purchase music almost entirely over the web and recycle our old CDs on eBay for some quick cash, sometimes the artwork, concept and credits get entirely lost in cyberspace.
Unless it's a major label release, we rarely get PDF CD booklets in iTunes anymore and that's really sad because we are loosing sight of some of the brilliant art that makes up the overall embodiment of the album as a whole. It's this art that ties the album together. The celebration of art in music seems to be get pushed by the wayside in exchange for simple little mp3s that rest ever so silently on our hard drives and on our mp3 players.
EQ Music Blog is firmly committed to the promotion of digital music art and that's why we have chosen respected digital music artist Jam Sutton to take over the design of the blog this week. Jam's music artwork is stunningly detailed and exceedingly exciting. His eye for colour and emotion are almost storylike, whilst still remaing cutting edge and utterly uber cool – beyond it's time.
I caught up with Jam Sutton to talk about digital art and how he is pioneering the return of real art in music. We hope you appreciate his work as much as we do. He truly is a visual superstar.
Hello Jam – how are you today sir? So tell me, what inspires you most when it comes to music art?
Hello! I'm great thank you! The music inspires me; when starting on an artist's campaign I have to be moved and inspired to do the project justice. I would say I prefer campaign artwork that takes risks, something other than a standard portrait of a musician. Music moves you, it makes you feel an emotion, it should be exactly the same with the artwork, the artwork should make you feel something, and it should capture the artist in a way that's faithful to the music.
I first took notice of your work on the current Frankmusik campaign – what was it like to work on those amazing images. They really blew my mind.
Thank you! It was a great project to work on; the whole campaign was actually two separate photoshoots with Frankmusik. The first shoot was to establish the visual concept and the second photoshoot in London was for the actual album cover. I worked closely with long term collaborator Martin Kierzenbaum (Cherry Cherry Boom Boom) and Frankmusik to establish the 'Blade Runner' Los Angeles aesthetic & direction. I was staying with my friend Natalia Kills in LA when I first met Frankmusik. He was riding his BMX down Melrose Ave & we bumped into him. Natalia & Frankmusik took me around downtown LA to photograph various elements at night which eventually made up the final artwork compositions. Frankmusik is a talented guy, he played me some early demos he was working on in his LA studio, which eventually made up his new album 'Do It In The A.M'.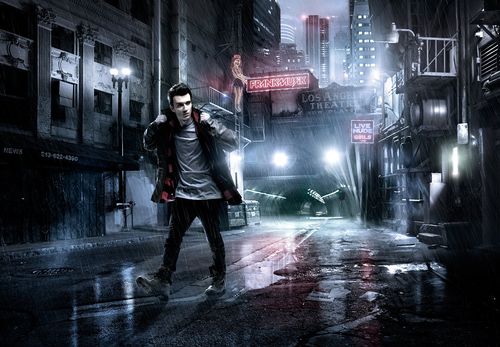 My favorite image of yours is Natalia Kills throwing an axe through a mirror – how did you create that one?
I've worked with Natalia for many years and this was one of my favourite shoots with her. We wanted to do something that was a bit unsafe, something that provoked. I wanted to create an image that honoured her single 'Mirrors,' portraying a psychological fight with the reflection in the mirror, the vanity and insecurity of self-image. The image was shot in 2 parts, the confrontational Kills staring at her reflection, and the psychotic Kills smashing through the mirror. I wanted to push Natalia to use her acting capabilities.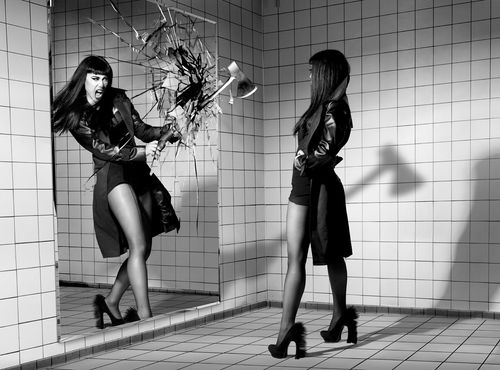 When did you know that music art was going to be your life? When did you know that this is what you wanted to do in life?
I've known all my life that I wanted to create. I wanted to be an Italian Renaissance painter, but obviously I missed out on this part of history. Photography became my replacement obsession. My painting background comes through in my work, which is not strictly photography. I guess it's more of a fusion of photography and digital painting. Music is also a big part of my life and I have an attraction to the flashing lights of celebrity pop culture. There is something disturbing and tragic that hides beneath the polished surface of 'celebrity'. So I guess things just fell into place and the direction of my life came together. I'm trying to bring the art back into music artwork.
What has been your favorite music art campaign to work on?
Each campaign stands out in different ways to me, but a really exciting moment was working with N.E.R.D. & Pharrell Williams. I've been a huge fan of theirs for so long, so this photoshoot was a dream job. I've always had ideas of what I would do if I was given the chance to shoot Pharrell & N.E.R.D., so when the opportunity came I was honoured to be a part of their project. Pharrell is a really great guy and receiving praise from someone you admire so much is one of the greatest compliments.
What's the hardest part of being a digital artist?
Knowing when a piece of work is finished. I'm OCD to detail; I can spend a whole week just tweaking sections of an image, to the point of near insanity. There comes a point where you just have to let things go, and this point only reveals itself when I'm 100% satisfied with the image. It can be a long process.
Anything you would like to share with our EQ readers who may be discovering your amazing art for the first time?
Thank you for taking a look! If you like what you see, stay tuned to my website & twitter. I'm launching a new project soon; a luxury clothing brand which I've been working on for the past year. I'm creating exclusive photographic artwork prints onto t-shrirts featuring musical friends & icons of our time. A walking art exhibition if you like. It's something I've wanted to do for many years, and I'm really excited that it's finally coming together. Thank you for supporting my work, I will leave you with a statement everyone should live by. "Do what you love. Love what you do."