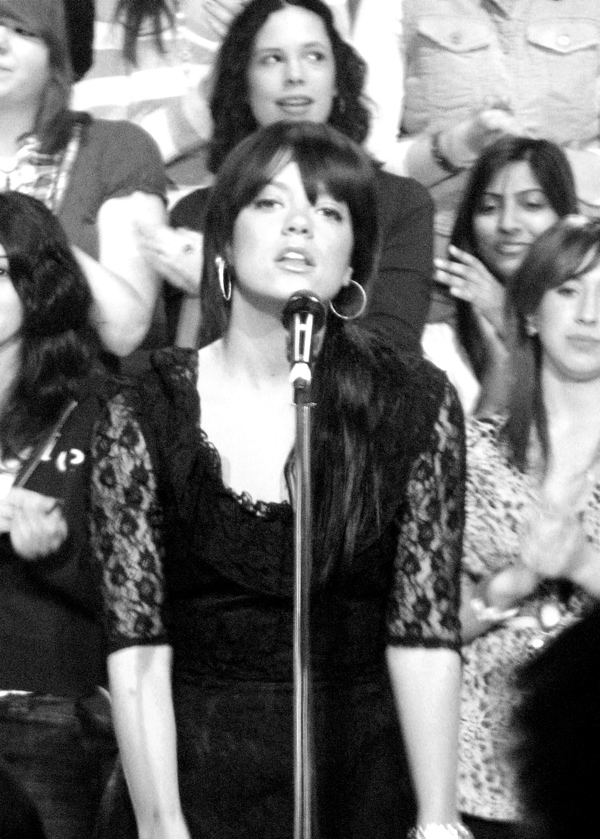 by Will-W.
24 year old British singer-songwriter Lily Allen visited the MuchMusic Headquarters in Toronto to talk about her new album "It's Not Me, It's You" which is released in North America tomorrow, February 10th.  Lily is on a whirlwind promotional sprint, just arriving in Toronto today to appear on two of Canada's most widely watched entertainment programs, eTalk Daily and Much On Demand.  The former is set to air this Saturday, February 14th and the latter was a live broadcast.
Sporting an elegant black dress with mesh arms, Lily opened off Much on Demand with a condensed acoustic performance of #1 UK single "The Fear", accompanied by a guitarist and keyboardist.  She was pitch-perfect and although I had hoped to record it, my camera failed me today.  Lily gave herself a congratulatory pat on the back when questioned by host Leah Miller about the title of her new album, stating "I like it.  It's great isn't it?". Lily commented on her inspiration behind some of her new tracks including the revealing "Not Fair", dedicated to a lover who was perfect in every way except in the bedroom, "What? I'm not going to lie.  He was awful!" repeatedly breaking into fits of unstoppable laughter during the program.
Lily indicated that she was in quite a rush today already being late for a flight to New York to do a quick round of promotions, including a secret Myspace-sponsored concert at the legendary Bowery Ballroom tomorrow night.  Surprisingly, she will be headed to the Bahamas soon after to do some promotional work, followed by additional secret gigs in Tokyo and London over the next couple weeks.  Lily was given strict orders to make minimal interaction with fans and her personal assistant made sure of this, carefully watching over all the while with her jacket and purse in tow.  After the all too short appearance, Lily was scooted away in a black airport-bound Escalade.
To those of you in Toronto, Lily's April 22nd show at The Phoenix actually sold-out within minutes of being made available this past Friday.  The show is the only Canadian date on her North American tour.  Rumours are that a change of venue (The Sound Academy) will be announced shortly.  If you missed-out, this may be your lucky chance and you heard it first here.  Check Ticketmaster for an additional batch of tickets to be released soon!
To learn more about Lily, visit her Myspace page.  To read my review of Lily's stellar "It's Not Me, It's You", click here
More pictures I took of Lily's Much on Demand appearance can be found here.  Enjoy!