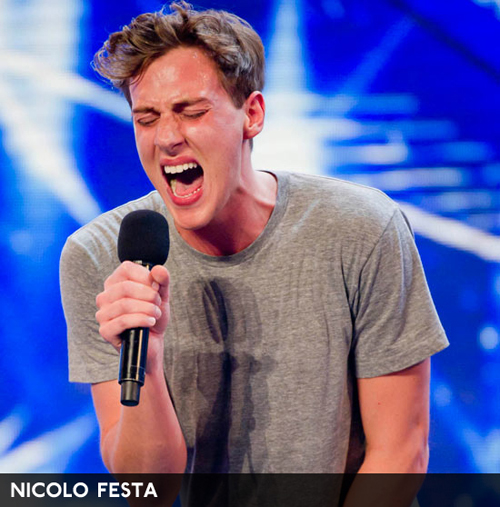 Nicolo Festa was by far my favorite contestant on last year's X-Factor. He was certainly one of the most interesting, talented and quirky male contestants I've seen on that show in a long time. Nicolo's refreshing honesty and his dramatic vocal ability certainly made a lasting impression on me.
"X-Factor is Karoke on a Saturday night in front of millions of people instead of three drunk men – no matter how much those productions cost…"
When Nicolo made it as far as the final 12 to compete on the live shows, I thought he was very deserving of his place. His time on the show didn't last too long though as he was unceremoniously the first to be booted off, which spurred a bit of an outrage that I wrote about on EQ last October.
Currently Nicolo continues to work his way into the music industry and is in the studio recording new, original material that truly represents who he is as an artist. Instead of being pushed into being a new male Lady Gaga like they tried to do on X-Factor, Nicolo Festa would very much like to see himself as the new male Cher instead.
I was dying to catch up with Nicolo to talk about his experience on the X-Factor and a couple of weeks ago, we met up in Soho to chat about what sort of music shapes him as an artist, why he doesn't change the gender in his song choices and why there really is no love lost between him and Katie Waissel.
"Just because I'm honest and I say "fuck this, fuck that" doesn't mean that I have to be the male Lady Gaga…"
As you would expect, the interview is very candid, open and honest and if you're a fan of X-Factor, you might be surprised at a few things that Nicolo Festa has to say about the show. I for one am excited that he's in the studio and plans to record songs that truly represent him and his incredible vocal style.
Something tells me that we haven't quite seen the last of Nicolo Festa just yet…in my eyes, he has the potential to be the new Patrick Wolf.