by Jordan Meehan
The debut album, Voyage, from Swedish electropop prophets, The Sound of Arrows, has finally arrived and quite frankly, it's a pop masterpiece. It's hard to believe that an album of this caliber is the duo's debut; it sounds so mature and self-actualized, which makes me think that we can expect even greater things from these two in the future. One of the things that make this album so strong is its consistency both thematically and sonically. The overarching theme of a voyage is present throughout the entire album, predominately on tracks such as Into the Clouds, Ruins of Rome, Longest Ever Dream, Nova, There is Still Hope, and Lost City.
In a world where the mainstream music scene is dominated by single's artists who haven't quite mastered the art of creating a solid, cohesive album, The Sound of Arrows has given us a true work of art. Here are my thoughts on the individual tracks:
Into the Clouds serves as the perfect introduction to this album. The beginning sounds like the opening music for an intense adventure film and then moves into soft, soothing vocals, swirling synths and a somewhat tame but thumping beat. What I think makes this song such a good fit as the album's opener is the fact that it is so alluring and draws you in, makes you want more. It's intense, but not too intense.
Wonders is a great follow up to Into the Clouds. It's heavier and more driving with it's melody and beat and definitely one of the tracks that you will find on repeat for a long time. My Shadow continues this trend. Not quite as big as Wonders but absolutely an infectious track.
Magic is, in my opinion, the albums only weak point. It's certainly not a bad song, but just not quite on par with the rest of the album. It's kind of the black sheep, but still a fun song that I think will grow on me with time.
Ruins of Rome brings us right back to the idea of a voyage. Both Magic and Ruins of Rome feature vocals from what I assume are children. They work much better on Ruins of Rome than they do on Magic. Definitely a song that will end up on repeat.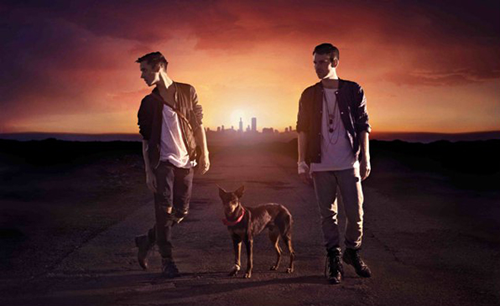 Longest Ever Dream is next up and I think this track is fantastic. It definitely stays true to the voyage theme and sounds itself like music you would hear in a dream. Lighter than air vocals and sweeping instrumentals make this song really strong. Hurting All the Way, while a short song, is still good. Not quite a highlight, but serves it's place on the album, which I think was the point. Conquest is another highlight for me, which really adds to the build up to the last few songs on the album.
Nova is a definite highlight of the album and probably one of the strongest tracks. Once again we're drawn in with soft, sweet vocals and then sidelined with a pounding, driving beat, which really makes you feel like you're "running forever." (It's a lyric…see? You need to buy this album to keep up with my wit, kids). Nova flows seamlessly into the next track, which I think is by far the strongest song on the album and one of the most beautiful songs I have ever heard.
There is Still Hope opens with a booming, classical sound that sounds like it was taken directly from Stanley Kubrick's 2001: A Space Odyssey (and as a huge Kubrick fan I can't even begin to tell you how much this excites me). For the first two and a half minutes or so it feels as if you are floating in space, drifting magnificently until some big, demanding vocals enter and snap you back into reality. One of the things that make this song so strong is that it effortlessly fuses together big, booming classical music with electronic music, and it makes for an irresistible combination. There is an overwhelming sense of what I would say honestly and sweetness to this track in terms of the lyrics, which tug at your heartstrings and bring you to your knees if you really listen.
Lost City does something truly amazing. Without any sung lyrics or words, this song takes you on a voyage with just it's sound. With its driving melody, it almost feels like you're on a search for an abandoned place (I imagined Atlantis, but that's just me). While I think There is Still Hope would have been a more powerful closing track, this song is definitely a great closing track as well and kind of serves as a dénouement, coming down from the climax.
Overall I have no doubts that this is the album of the year, at least in my eyes. Having only heard a few of the remixes they have done in the past (their remix of Alejandro definitely stands out), I wasn't exactly sure what to expect from their album, but I knew it would be something good. What I didn't expect was that it would be this good. It's so easy to get lost in this album and let it completely take over your mind and I think that is another aspect that makes this album so good. This album is without a doubt an electro-pop masterpiece so please, do yourself a favor and buy this album. You'll thank yourself for doing so.