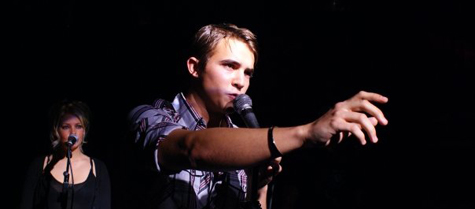 Sam Taylor mesmerizes the EQ crowd with opening track "Out Of Fashion"
Last night saw the re-launch of our
Electroqueer
club nights at Hoxton Square's Underbelly and from the moment we opened the doors at 8pm until the very last beat at 1am it was truly an incredible experience and absolutely packed.  The night was also a
Time Out Recommendation
and it was so nice to see so many people come out to experience what EQ is all about – celebrating new pop, electro and nu-retro music.  I have to say this though,
THIS
was the best piece of press we got on the night…but
this
and
this
was pretty cool too…
Making her DJ debut,
DJ Miss Lynsey
(you may know her from
The Electric Dolls
) played a killer opening set which included
Menya's "Oh!"
and
"I Ran" by Darude ft. Blake Lewis
.  She even played her own new dance track
"Ready 4 More"
which is an absolute stomper which you will be hearing very soon.  DJ Miss Lynsey also mixed in a healthy dose of EQ favourites including
"Better Off As 2"
by
Frankmusik,
The
RAC
remix of
"Cobrastyle"
by
Robyn 
and loads of
Lady Gaga
and
Pet Shop Boys
.  Congrats to
DJ Miss Lynsey
for having a first great show – if you want a good pop and electro party, you'll need to start booking her in now!
Madison and the exquisite Sarah opened the show with "Iconic"
Kicking off the showcase at 9:45pm was
Madison
who gave a "killer" non-stop performance that included EQ fave track 
"Iconic"
, new track
"Collision"
and even a cover of
The Killers
"Human"
which made the crowd go absolutley wild.
James Leon
then sang his most excellent tracks
"Never Been Cool"
,
"Club With No Name"
in which he dedicated to Hoxton Square and EQ chart topper
"Purple Heart"
– in which I'm told the video is done and will be ready for viewing any second now…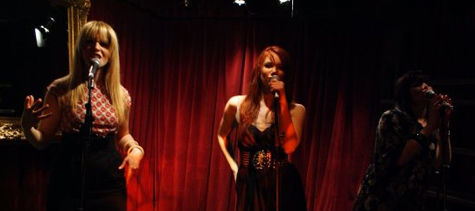 After a year of EQs pleas, Red Blooded Women finally took over the EQ stage. 
Red Blooded Women
were up next and they kicked off their set with
"Colour Me Dirty"
which included the
Eric Prydz
"Pjanoo"
sample which sent the crowd into a frenzy.  
Candy, Carly
and
Liz
also sang
"Synthesizer"
and dedicated
"Memories"
to EQ which was lovely – thanks girls.  However, the real treat from their set was the never before heard mix of their new single and
Depeche Mode
tribute 
"Enjoy The Silence"
which surprised the entire crowd.  Comments in the crowd during the song included –
"wow, their version is much better than I thought it would be"
and
"that really works for them"
.  EQ couldn't agree more – in my outro I couldn't help but make a joke about how
their cover of
"Enjoy The Silence"
wins over
The Saturdays
"Just Can't Get Enough"
hands-down.  
Red Blooded Women
will be shooting their video for
"Enjoy The Silence"
this weekend too – we can't wait to see that – although we aren't jealous of their 6am call time!
Hannah Sanders – new lead singer for The Ultrasonics closed out the show.
Following RBW was the performance that almost everyone at the show was waiting for.  Sam Taylor wow'd us in soundcheck and we knew his set was going to be stunning.  A lot of people thought his soft blend of melodies and emotional ballads wouldn't fit in on the night – but I knew that because of the contrast, it would totally make the night more interesting and that was most definitely the case.  Opening with the powerful
"Lament"
mixed in with
"Out Of Fashion"
the crowd started to fall in love from the opening note.  Sam also sang torch ballad 
"I Don't Know How To Love Him"
which was beyond moving.  You can really feel the emotion that he delivers in his songs.  Sam closed out his set with
"Run Away"
and it was clear that he just earned 220 more fans from this early on performance at EQ.  We even hear 
Darren Hayes
 was more than impressed with Sam's performance – thanks to Darren for coming on down and supporting EQ and thanks to Sam Taylor and "The Taylorettes" for wowing us with your incredible performance.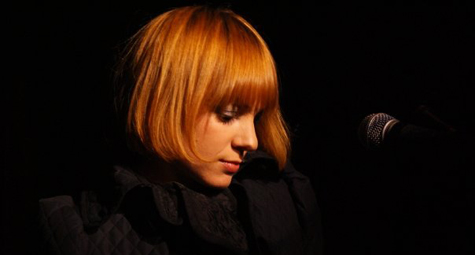 Crowd favorite Antigone looking demure before the big reveal…
Antigone's
performance was just spot-on and gorgeous as you would expect.  Sporting a see through metallic gown with a hot red corset underneath – Antigone delivered
"Funky Dancers"
,
"More Man Than Man", "Mirror"
and her new punchy single
"Promiscuity"
with brilliance and grace.  After all, Antigone rules queen supreme of the EQ night – having been her third appearance for us.  Following
Antigone
 and closing out the showcase was 
The Ultrasonics
represented by new lead singer
Hannah Sanders
– who prepared a special intro for the show. Singing new single
"Go Electro"
(which by the way IS the new EQ theme song – it's gonna be played at every EQ show now, kinda like
"Better The Devil You Know"
at G.A.Y. nights).  Hannah also sang EQ Number 1
"Perfect Girl"
and
"Love Addiction"
which went down a storm.
James Leon soaking up the coloured lights…
DJ Adamix
.  Where do I start?  Adam cracks me up with his
"I don't even know what nu-retro is…"
comments yet he delivered the hottest nu-retro set I've ever heard.  Legend.  Playing
Spekr Frks ft. Belinda Carlise's "Heaven"
along with the new
CeCe Peniston
 electro remix of
"Finally"
combined with the new
"Show Me Love"
from
Steve Angelo and Laidback Luke ft. Robin S
only confirms my belief that
DJ Adamix
is the next superstar DJ.  I'm proud to have
DJ Adamix
as our resident DJ as he is uber talented and has his finger on the pulse of what's more hot than hot.
DJ Adamix commanding the digital decks
More pix and video's coming soon dear EQs.  Hopefully we'll be able to announce the next EQ night very shortly if you didn't have a chance to make it down last night.  If anyone has any vids or pix – send them over to
[email protected]
and we'll feature them.
Thanks to
Mr. Blue
who took the above shots.  What a great camera eye he has and it was great to get to chat to him during the night – see you at the next
Electronically Yours
night
Mr. Blue
!