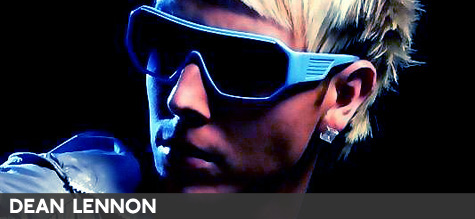 Dean Lennon
is about to bust out some SERIOUS electro people. He's been out on the scene for nearly two years now and I have been following him with anticipation, waiting for him to unleash his neon-charged electro upon us. We got some blog time together before he packed up and went holidaying in Turkey. It's a good thing too, cuz when he comes back we are putting him straight to work. Dean will be playing Popshow (one of my favourite nights in London) on June 15th and he will be co-headlining
EQ @ Underbelly
on June 26th alongside
Dolly Rockers
.
So what does Dean have to say about his new tracks? What super power would he want if he had the choice? What does he think of Lady Gaga? What does he think about former bandmates who "got their kit off" and did he actually start singing Sam Sparro to me in the interview? Yes he did. Enjoy.
Why hello Dean

. How are you doing today? I understand you are packing your bags for Turkey now…
Hey man. I'm cool. Been really busy rehearsing today. I can officially say i'm knackered. [Laughs] Yep i'm off to sunny Turkey on Sunday for a week for a well deserved holiday. I've been spreading myself dangerously thin lately so i'm looking forward to a break.
So you've been locked in the studio for a few years now crafting some wicked electro-pop. How are you feeling now that some of the tracks are finished and you're getting ready to make your big debut.
Well for me its been a long time coming. I've been writing and producing for so many years now and now i'm creatively in my element. I'm working with some of the most talented producers and songwriters around – (
Mosquito, Muddyloop, Johnny x, Duane Morrison
) and I've now found my sound as an artist, which I think is important. I'm also confident but at the same time nervous to debut my material. I think when people see the live performance they will be pleasantly surprised [Devilishly smiles]

You got some huge synths on your track "See Through". Are you proud of how this track turned out. Tell us what this track is all about…
Well "See Through" is one of the very first tracks that myself and Matt at Mosquito Music wrote together. We wanted (as with all of my material) a lot of synth, electronic sounds, retro beats, 80's influences but still keeping the sound current. Im am sooooo proud of this track. "See Through'' is basically about coming into contact with a person or people in your life that try to strip you of yourself, try to change you into something else and then realizing that that person is doing it for personal gain. The whole lyric is pretty heartfelt but when the chorus comes in it changes the whole dynamic of the song. Saying i'm a fighter and I wont let you do this to me. Deep shizz !

And tell us, what is "Trapped" all about…
"Trapped" is a track that has a hard hitting electronic baseline that will knock you sideways! It's about someone being trapped in a relationship they cant get out of. Stuck with the same boring person and a plea to get their life back. The first line sets off the whole mood of the track – "Let me describe my time with you…people do less for murder". [Laughs]
You're going to be co-headlining the EQ @ Underbelly show on June 26th…what can we expect from a Dean Lennon performance?
Well all I can say a the moment is when you come to see me, I think you be pleasantly surprised. If you like electro, you'll love this!!!

You have an interesting way of describing your backup dancers don't you…
Well At the moment they are my "Space cadets". You'll find out why when you see me live! Im trying my hardest not to give too much away here Raj!
You have quite the flair for neon don't you? What's the coolest neon thingy you own…
oooo – erm. Neon I love in terms of the effect it gives graphic wise – so can I say my logo on my MySpace page?
Ok, that works! Speaking of, I love your MySpace photo – it looks like you're a superhero busting out of a containment cell. Given the following choices, which super power would be the one you would like to be infected with:
A – Invisibility
B – Super Strength
C – Super Stretchy Skin
D – Mind Control

As my friends would know – I've developed the biggest crush for a certain Miss Frankie Sandford of the The Saturdays, so mind control would help me in my aim to get her away from that dude in Mcfly and give me a call. Could that work?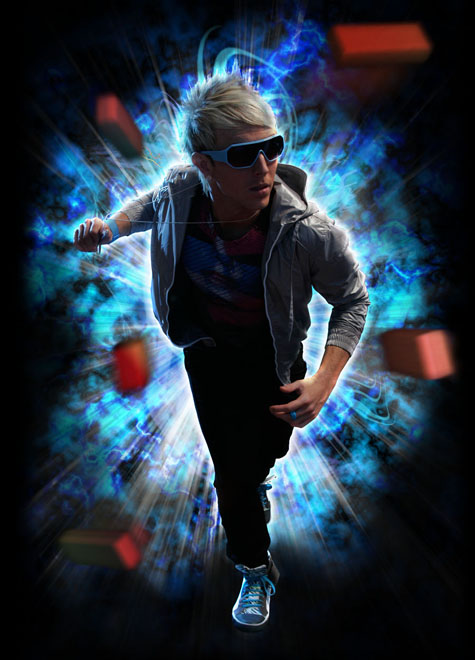 I think you two would make a better couple actually….Now for those in the know, you were once part of a boyband called Digital that I really digged. You guys broke up, so sad, but was it a good learning experience for you?
It was. I learned a lot from being in a boyband. Especially THAT boyband [Laughs]. It was what it was and I wouldn't knock it purely for the experience it gave me. I was one of two original members in that group and spent a year and a half recording and touring with them so it has a little place in my heart still. Plus the tracks were great. Would I do it again? Probably not.
I keep seeing one of your former band mates on the telly all the time and he seems to be missing 99% of his clothing! Scandalous! Seems like he really took to heart your ex-Digital song "Get Ya Kit Off" eh?
[Laughs] You're not the only one who was shocked my friend…still, it is a great song isnt it?
Very diplomatic answer Dean. So if you weren't doing electro-pop and being the poptastic maestro you are, what sort of normal job would you have and why?
oooooo , erm, I would most probably be a teacher. People say I could be a good teacher but im not too sure whether I have the patience. I'd like to teach music or drama as it's what I love. Could I spend 9 hours a day with 28 children? NO.
Who wins in electro-pop celebrity death match? Frankmusik, Sam Sparro or Calvin Harris?
Sam Sparro all the way for me. His soulful voice (which sounds like it doesn't belong to him) his style, his taste and influences in music. His albums is one of my all time favourites. (Dean actually starts singing here…) "SALLLLLLY, oh those thick caramel thighs"…
Is Lady Gaga the new Madonna?
I'm a Massive Gaga fan and hopefully going to see her in July (fingers crossed). Madge, I've never been too keen on even though she's great. Once I've heard the next Gaga album, hopefully its as great as the first, I might be able to make a decision.
So that's it Dean. You've been a star and a good sport. Go ahead plug yourself…
Cheers dude… Guys, check out mty MySpace. Listen to the tracks keep and eye out for the dates being added to the diary – i'd love to see you at my gigs. My website is www.deanlennon.co.uk – Check it.
And any parting words for EQ readers?
If you've got any sense you'll keep coming back to EQ! See you in June. Word.