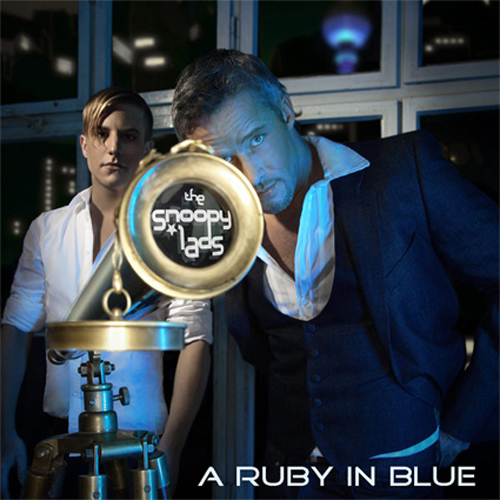 I've been aware of Berlin based The Snoopy Lads for quite awhile now, but for some strange reason, I never got around to writing about them and their gorgeous debut album "A Ruby In Blue" which came out in January of 2008 – I really could slap myself.  Hendryk Ekdahl and Basty von Noeten are what I would call quiet geniuses – there was no huge PR push for this album in the UK, nor was there much blog coverage from what I can tell.  They simply released the album for all to discover – and for me, discovering it was one of the greatest musical finds I've come across in a long time.
If you decide to take a dive into The Snoopy Lads soundscape you'll find yourself more than just a little immersed in their vast sea of emotional electronica.  The Snoopy Lads almost remind me of a male version of Róisín Murphy's "Overpowered" if I were to make a comparative that EQ readers could identify with, alongside hints of the brilliance that is Hercules & Love Affair – in all it's awkward and raw beauty.  The music is simple electronica with deep basslines – gloriously synthesized to the softly elegant, yet gusto-packed vocals of Hendryk Ekdahl.
The Snoopy Lads obviously have a gay aesthetic about them which draws you in visually, but on the merit of the music alone, what they have come up with in "A Ruby In Blue" is more than just "music for the gays", it's a must-own for any serious electronica connoisseur.  Perhaps, my favourite track on the album is the gorgeous "Listen To The Silence" with it's haunting piano and pleasurable injection of bass.  "Waltz On A 4-4 Time Beat" will find you swaying in euphoria – you can really feel the desperate yearning in this track.
I caught up with Hendryk from The Snoopy Lads to talk about the sound on "A Ruby In Blue" and here is what he had to say about their impressive debut:
"Basty and I have been experimenting with sounds for quite awhile until we finally found the typical "The Snoopy Lads" sound.  It all began with "Waltz On A 4-4 Time Beat" where we felt: that is IT!  A melodic piano with a classical touch, playful strings and a rough husky electronic bassline. A crossbreed of electropop and classical arrangements. Plus a warm and strong modern pop voice. Obviously you're proud when you release your first full album with your own material.  But looking back it's even better, since we have been asked for collaborations by international artists – because they want our unique sound connected with their creativity!"
The Snoopy Lads have since been soldiering forward since the release of "A Ruby In Blue" and have put out a collective series of EP's called "Triptych I-III" that EQ will be reporting on in the next few weeks, but for now, I urge you to begin your journey with The Snoopy Lads like I did and download and their beautiful debut, "A Ruby In Blue".  
More to come…rest assured.
Download The Snoopy Lads "A Ruby in Blue" on  
The Snoopy Lads on MySpace.