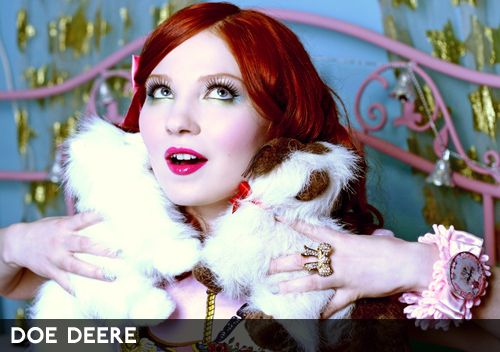 For those long time readers of EQ, you'll know that I properly went ape-shit when I first heard Doe Deere's debut EP "Supernatural" a few years ago. Every so often, I still spin that EP as the songs on it (especially "One Touch") really get me going. Well since then, Doe Deere got a tad bit side-tracked from the music and has in the last year gone from budding pop icon to extremely successful beauty blogger and entrepreneur in the cosmetics industry. Doe Deere now owns and operates her own makeup line called Lime Crime – which is a huge hit in the States and the UK for those girls and boys who need a bit more "color" in their life.
When I was in NYC – Doe Deere was the first person I got to catch up with as I attended her Lime Crime launch party at SpaceNK where we got to chat about all things Doe Deere – from her hugely successful blog – The Doe Deere Blogazine to how she keeps up with running her own makeup company and most importantly, what's going on with the music. And despite her temporary step away from the music scene, Doe Deere still remains one of my personal divas – I think everything she does is just magic and who really cannot just love her and her personal mission of spreading glee across the universe – one brightly colored lipstick at a time – enjoy.
And make sure to enter the Doe Deere Lime Crime Competition over on Facebook to win a copy of "Supernatural" and a Lime Crime Makeup Prize!
Well hello Doe Deere – how are you today darling?
I'm great, it's good catching up with you Raj!
So I see you made it back safe and sound to NYC after being stuck in London with the volcano madness – did you enjoy your time being stuck in London?
I could say we got "lucky enough" to get stuck in London for a few extra days, because prior to that it was non-stop work. We were on a tour of SpaceNK, where my lipstick line Lime Crime just launched in the UK. How can you not like a town that plastered your face all over its stores? We certainly received a very warm welcome – including the weather which was uncharacteristically sunny. We loved our stay and can't wait to go back!
I saw from one of your blogs that you discovered the magic that is SNOG. How many snogs did you have while you were here?
Only one, and it was spectacular! We do have a similar chain here in the US, called Pink Berry – but SNOG takes the cake in terms of the design! So candy-futuristic!
Ha! Yes, I have to have at least one SNOG a week now! So thanks for agreeing to do this catch-up interview. Our EQ readers just love you and your music. But some of them don't quite yet know that you've put music on hold for now to focus on your new career as a makeup guru and beauty blogger – tell me all about it!
Well, I'm actually a beauty entrepreneur first and foremost. Soon after I recorded "Supernatural", I began thinking of creating my own makeup line because I could never find cosmetics bright enough for my tastes. Lime Crime launched in late 2008 and became a runaway success. I still love the record though and listen to it frequently – it's such a fun little EP!
How did you come up with the name Lime Crime and your tag-line "so bright it's illegal"?
It's a rebellion against the mainstream which fears color. Lime Crime is color revolution and we encourage painting outside the accepted lines! And of course, lime green is our signature color.
You're one of those blogging success stories that saw you launch your makeup line from all the amazing support of your blog readership – how does it feel to "get it right" in the world of blogging?
It feels great, then again I had great teachers. I think if you have a story to tell and know how to tell it well, people will read. Especially if you're giving them some kind of value – in my case, makeup and DIY tutorials.
How do you find time to update your blogs when you pretty much are running your new business full-time? Do you sleep?
I enjoy writing on the blog, so updating it every day comes naturally. But I won't lie, it has become an inextricable part of my business model and I rely on my readers' support all the time. I'm lucky to have such a loyal readership!
I've asked you this before and I'll ask you again – when are you going back into the studio to make some more fun electro-pop?
When I sell out of the old record! Don't worry, I don't have that many left so you better hurry up and get it on MySpace! Seriously though, I'm really hoping that once my business is established and can run more or less on its own, I can set my foot back in studio and make another fun electro-pop record!
Now, do some of your beauty blog readers know that you are also a pop musician as well? Do they request the CD when they find out that you're a musician as well – do the two projects help each other out?
My pop-musician past is my best-kept secret on the blog. I am very proud of the record but would rather keep it as a treat to the especially dedicated fans. Personally, I love discovering little surprises like that about the people I admire.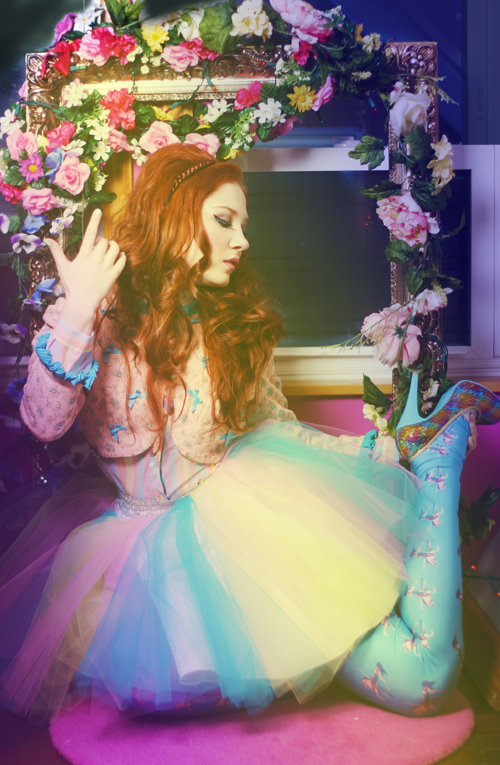 So it's been a few years since we wrote about you heavily on EQ – what music is inspiring YOU right now? What act is making you sit up and go "hey that's quite interesting".
I'm a HUGE fan of Lady Gaga. There is a funny story about how I came to know about her. I was at an industry meeting back in 2006, when my EP just came out and I was shopping it to labels. Someone asked who the next big star they think is going to be, and amongst a few other kids someone named Lady Gaga. They called her "the new Madonna". I came home and looked her up on the internet immediately – she still had dark hair and no budget for the outfits, but I could already tell she was a force to be reckoned with. In some ways, I feel that Gaga was able to say and do everything I wanted, but much better. This is why I'm not too worried about leaving pop music – under Gaga's reign, it's well taken care of! Now my job is do what Gaga did in music, to the world of cosmetics.

How is Lime Crime doing if I may ask – Do you think you'll have a career in makeup for a long time – it seems like it's starting to go global now…
We are doing fabulously, actually! The first shipment of lipsticks was sold out within the first three days! The UK especially loves us, and we love them back! Being picked up by and having the support of SpaceNK is a huge deal for us as a company and me personally as an entrepreneur.
Is going global a little scary?
Exciting more than scary – it's something I've been meaning to do for a long time, bring color to everyone's life regardless of age, gender, or geographical location.

Well that's it Doe – thank you so much for your time – any parting words for EQ readers?
Believe in yourself and keep chasing that dream! Oh, and keep reading EQ – maybe one day you'll find an explanation for Raj's obsession with Tiffany.
Oh Doe, you do know me all too well…
To celebrate the success of Lime Crime and for our general love of the music that Doe Deere makes, we are offering an exciting giveaway for you over on our Facebook page. We have 5 copies of "Supernatural" to giveaway along with some Lime Crime makeup to our lucky readers.
To enter the Facebook competition, make sure you "like" us and just leave a comment on the Doe Deere Lime Crime Competition thread under "Discussions" about why you love Doe Deere and we'll pick five winners at random who will be notified of their prize win.