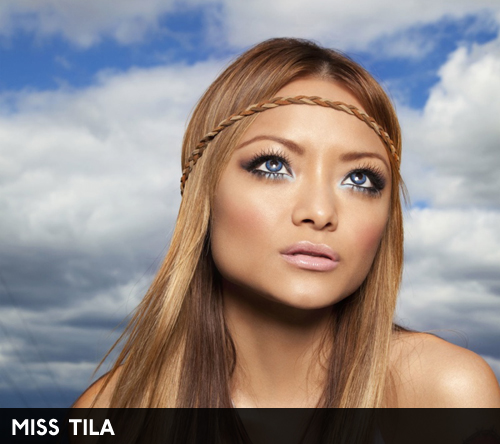 You guys know that I LOVE Miss Tila. Ever since I met her in New York a few months ago – right before she launched her new celebrity gossip blog www.misstilaomg.com – I've kinda become fascinated with her and her drive to become the world's next big blogger in the world of celebrity. What I like about Miss Tila's blog is that she just tells it how it is from her perspective and she keeps it real – with a bit of saucy thrown in for fun. While other celebrity bloggers are quite transparent and at the mercy of their advertisers, Miss Tila's content is fresh and fun and she's been quite good at getting the scoop way before her competitors. She definitely is becoming a force to be reckoned with in the world of celebrity gossip.
Miss Tila recently visited London for a little media tour and she got to meet with all the big publications who were just dying to get some sort of scandalous scoop on her. EQ was excited to get invited down for a second chat with her on a rooftop garden in West Kensington to talk about her life so far as a celebrity blogger, her new EP "Welcome To The Darkside" and how important it is to use your celebrity status to help out up-and-coming musicians and artists. Hope you enjoy this little chat. I sure did and I just want to thank Miss Tila for being such a supporter of EQ as well. I got nothing but love for the tiny, yet mighty little powerhouse.
Make sure to check out the Miss Tila EQ shout-out after the jump!