The debut album from independent electro-pop recording artist MCEWEN is now out, and I couldn't be more thrilled about it. On this blog site, you won't find a ton of album reviews. So that I'm delving in and sharing my thoughts about "0524" by MCEWEN should immediately alert readers that I am heavily invested in this release. Every bit as engrossed as we were in writing about electronic-pop singer-songwriter Adam Tyler before he married and became MCEWEN.
Adam spends a lot of time vlogging about his family life with his Husband Erik and their twin daughters Addisen and Everest on his YouTube channel McHusbands. Despite raising two adorable daughters. He has also managed to release a few singles and two EPs while parenting the girls.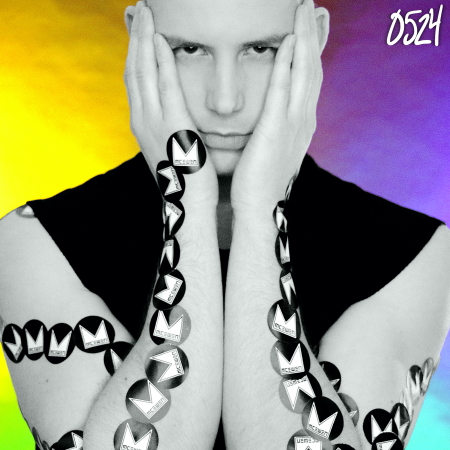 His first original release, "Neon," (EQ review here), came in 2018 and features on "0524." The track appears alongside MCEWEN's previously released tracks "Love That I Found You," (EQ review here), "SOS," "A+E," and "Destination Unknown." An electrifying cover of "Don't Turn Around" by Ace of Base (EQ review here), and Adam's scintillating hot take on the track"Supernova Girl" by Kristian Rex.
I haven't even covered half of the tracklist. Yet there are plenty more songs to explore.
It makes sense to pick out the two current spotlight tracks, "Words" and "Amazing," since this is where the visual element kicks in.
Adam grew up in the 90s, and this is the music era he pays homage to in "Words". Stylistically "Words" takes nods from Britney and the Backstreet Boys.
The track "Amazing" is one of my personal highlights from the album. That the music video came out this early in the promotion run, is fantastic. It is very different to anything Adam has put out before. He speaks instead of sings. I love the pure sass of the song. I shrieked out loud in delight when I played the video for the first time. The music video is easily his hottest ever. He went all-in on the sass but let's not lose sight, "Amazing" is an empowerment song.
Another stand out from the album is "Playgirl." Again this song is quite different to anything Adam has released previously. Definitely, he had the dancefloor in mind when writing the track. This is especially fitting because the idea for "Playgirl" came about from Adam's nights out clubbing (when younger). It's about batting off the attention from over-friendly girls. He's saying I'm just not into you girls hitting on me.
If you're wondering about the significance of "0524"… it is the date of Erik and Adam's wedding anniversary. Seeing that much of the inspiration for the album stems from family life. There really could not be a more endearing choice of an album title.
Without a doubt, these new tracks document Adam's growth as an artist. In doing so, he also gives us a good hit of retro vibes into the bargain.
"0524" is a synthy, electro-pop album so good that it sets the bar high for other similar artists to follow. Should you fall out of love with electro-pop for a hot minute, the way back to becoming enamoured with it again lies with giving this debut album by MCEWEN numerous spins.
The album "0524" is out now – available HERE
Connect with McEwen
Facebook: https://www.facebook.com/mcewenofficial/
Twitter: https://twitter.com/mcewenofficial
Instagram: https://www.instagram.com/mcewenofficial/